Week Three National Roundup
September 18th, 2022 6:00am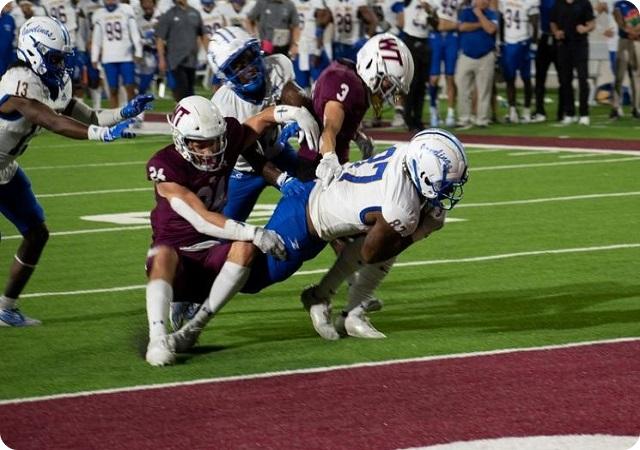 Headlines, news and notes from week three of the Division II season
By Chuck Bitner, national columnist
#5 Shepherd rallies to beat California in OT
California scored 23 unanswered points to surge ahead of Shepherd but gave up a fourth quarter double-digit lead for the second week in a row. Trailing 23-13 in the final period, Shepherd draw within three followign Tyson Bagent's third touchdown pass of the day. Cal had opportunities to eat up clock and add to the lead but the Rams defense forced two three-and-drives on Cal's final two posessions of regulation. Down to their last gasp, Bagent lead a scoring drive that culminated with the game tying field goal as time expired. Shepherd then won the game in the first OT with a walk-off field goa. Cal held the Rams' rushing attack to just 14 net yards, but Bagent passed for 490 on 53 attempts. The loss drops California to 1-2 as PSAC divisional play begins. The win for Shepherd sets up a huge battle at Kutztown (2-1) this coming Saturday.
Indianapolis overcomes two TD deficit to beat Tiffin
UIndy returned the opening kickoff for a touchdown but were then held scoreless for the next 50 minutes of football. Trailing 20-7 at the start of the fourth quarter, the Greyhounds desperately needed to find a way to finish a drive. They would do exactly that as they completed two fourth quarter drives that covered more than 80 yards. Quarterback Connor Kinnett ignited the offense with this rushing ability, carrying 10 times for 128 yards. Facing a 4th and 8 at the Tiffin 12 yard line, Kinnett connected on his second TD pass of the quarter, finding Frank Bentley in the end zone with just 0:06 left in the game. The 'Hounds defense would add a TD on the final play of the game as Tiffin attempted the lateral drill. Tiffin, who I had ranked in my top 25 last week, drops to 2-1, Indy stays unbeaten at 2-0.
Watch: UIndy's game winning TD with 0:06 remaining.
#21 Lopers bounce back against #18 Washburn
Shaking off the disappoint of last week's loss, Nebrask-Kearney got out to a to a 21-6 halftime lead over Washburn. The Lopers were shut out in the second half, but the defense was able to make 21 points hold up for the win. Washburn closed the gap to one score at 21-13, but the Ichabods final three drives ended in punts. Nebraska-Kearney then killed the clock with a 13-play, seven minute drive to end the game.
Texas A&M-Kingsville upends #12 West Texas A&M
The Javelinas never trailed in their road victory at West Texas. It as the first win for the Javs in the last four attempts against West Texas. Both teams gave the ball away multiple times but The Javelinas were the more efficient offense and held the ball for more than 36 minutes. TAMUK running back Chris Anderson was a workhorse, carrying 34 times in the game for 155 yards. Isaiah Bean had two big sacks for a loss of 18 yards.
Notes
Tuskegee earned the 700th win in program history with a 13-10 victory at West Alabama. You can read more about the Golden Tigers historic win in this artcile from SIAC columnist, A.D. Drew.
Midwestern State scored two touchdowns in the final minute to rally past Michigan Tech. The Mustangs were behind 21-7 at home to start the fourth quarter but tied it with 0:43 left in regulation and then returned an interception for a touchdown a few seconds later to complete the comeback and stun the Huskies.
Saginaw Valley stayed undefeated but in the next four weeks will face Michigan Tech, Grand Valley, Ferrris State and Indianapolis.
It was a good day for the South Dakota RMAC teams. South Dakota Mines won at Colorado-Mesa and Black Hills State won at Chadron State. The Hardrockers are 2-1, the Yellowjackets are unbeaten at 3-0.
Western Colorado got into the win column with a victory at CSU-Pueblo. Josh Cummings was able to play for the first time this year and rushed for over 100 yards in the win.
Wingate had 12 (yes twelve) sacks in their 27-10 win at Tusculum. The Bulldogs are 3-0 and have schedule that sets up nicely for a shot at being undefeated heading into late October.
Delta State got a win over D1 Mississippi Valley State. The 3-0 Statesmen never trailed and frankly, the game wasn't as close as the 28-17 final.
Carson-Newman continues to struggle. The Eagles lost to Limestone on Saturday in Overtime. Limestone was the only victory for Carson-Newman in last year's dreadful 1-10 campaign.
Veteran coach Raymond Monica got his first win at Clarion. Monica was a long-time Bobby Wallace staffer at North Alabama and Temple and went on to head coaching stops at Kutztown and Arkansas Tech.
Questions, suggestion, comments, complaints? Email me at [email protected] and follow me on Twitter @D2Chuck.
Also remember to catch Inside D2 Football Sunday night at 8pm, eastern. The week three edition will feature discussion of the games highlighted here as well as a visity from Harding coach Paul Simmons.