Week Three National Roundup
September 17th, 2023 6:00am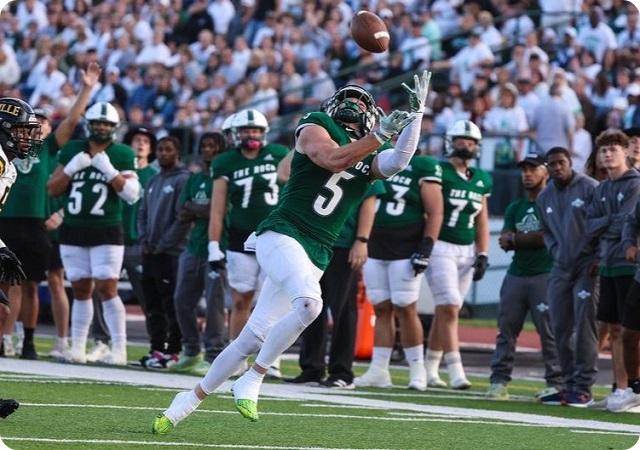 Headlines, news and notes from week three.
By Chuck Bitner, national columnist
We had a lot of interesting results from Saturday, along with some noteworthy moments and big time performances. Here are some of the headlines from week three. Catch up on all of the D2 final scores here.
Ferris State takes Montana to the final play
Ferris State had the ball in scoring position within the final minute at FCS No. 12 Montana. The Bulldogs would turn the ball over on downs and lose by a final of 17-10. A very respectable result for any D2 team at a top tier FCS program. That said, I'm not sure how the Bulldogs should feel about it. They can walk away from it knowing they were good enough. They proved their worth and demonstrated without question that they could compete with a good D1 team. That is something to be very proud of. But they were in that position because of their intense competitive nature and they expected to win. To that end, I'm sure they are angry and bitterly disappointed because they could have done it. They led at halftime and Montana did not take the lead for the first time until late in the third quarter. The Bulldogs struggled for offensive consistency but not as much as their opponent. Montana had just 189 yards of offense. Think about that for a second. Eliminate just a couple of bad plays and some penalties and Ferris State wins the game. That will be tough to accept. They must remind themselves that win or lose, the result does nothing to impact their goals. They're still 0-0 in GLIAC play and 2-0 against D2. Everything they want to achieve is still in front of them. Going into it, I had said I just wanted to see how well they could match up. Now I know. As a D2 fan and advocate, I'm proud of how well they competed.
Some other headlines and notes from Week three
Newberry won the longest Overtime game in Division II history, outlasting Emory & Henry 25-23 in eight overtime periods. I watched the final few minutes and all of the OT. It wasn't very pretty. Both teams missed multiple opportunities to win, and the 2-point play shoot-out, while resulting in fewer overall plays, does produce more overtime frames. But it sure was dramatic and it did become the longest overtime game in division II history and second longest in NCAA history. Newberry and E&H have played twice since the Wasps joined the SAC and both games ended in overtime.
Pittsburg State holds off Central Missouri by one point
No. 3 Pitt State trailed Central Missouri at halftime but the Gorillas showed their tenacity in the second half. I was listening to this game in the car heading home from an early game. Things got crazy down the stretch with the last six drives of the game resulting in touchdowns. Three for the Gorillas, three for the Mules. The difference in the game was after Central Missouri's final score, head coach Josh Lamberson passed on the game-tying PAT to go for two points and the lead. They didn't get it, but it was the right call. Everything was working for Pitt State's offense at that time. I would not have wanted to go to OT with them. There were many standout performances in this game but I don't think UCM could have been in position to win without the rushing of QB Zach Zebrowski. He entered week three leading D2 in passing yards. He threw for 316 on Saturday but his 117 rushing yards all seemed to come at critical moments. Pitt receiver Kolbe Katsis pulled in nine catches for an even 200 yards and a TD.
Three ranked teams lost for the second week in a row. No. 13 Northwest Missouri State's offense struggled all night in a 17-6 loss at Fort Hays. We knew No.10 Angelo State had a tough assignment traveling to Central Washington after the home loss to Colorado Mines. Special teams errors were a huge factor in the Rams' 27-24 loss. A third quarter safety made the difference in No. 24 Wingate's two point loss to Tusculum. Expect to see Northwest and Wingate fall from the rankings this week. I think Angelo State probably hangs onto a top 25 spot.
Truman State turned in a phenomenal defensive performance in a mild upset of No. 25 Saginaw Valley State. The Bulldogs held Saginaw to just nine first downs, 81 rushing yards and only 230 total yards. Truman State should take Saginaw's place in the Top 25 poll this week.
Glenville State upset defending MEC champs Notre Dame in early action on Saturday. Turnovers were a huge factor all day but Glenville was able play solid defense and minimize the damage. They took advantage of a few Notre Dame mistakes to build a 24-6 halftime lead and would make the 24 points hold up.
No. 16 Shepherd and California exchanged blows all day in a game that went back and forth. Shepherd was able to use a late turnover to get a tiny bit of separation and ultimately win the game by 10. The Rams' surrendered 570 total yards to Cal. The Vulcans' Eric Willis had an enormous day in the loss, racking up 274 yards and two touchdowns on just six receptions. Shepherd QB Seth Morgan was exceptionally efficient, completing 26 of 33 for 326 yards and four TD.
Western Colorado beat No. 21 CSU-Pueblo to make it to 3-0. The Mountaineers used their defense and special teams to build a 20 point lead by halftime. That makes three good wins to open the year for Western Colorado. I expect to see them in the Top 25 this week.
Another team that probably deserves a ranking at this point is Texas A&M-Kingsville. The Javelinas aren't flashy offensively, but they're getting the job done and have a couple of good wins to their credit. They won at Western New Mexico Saturday night and got a couple of turnovers from one of the top QBs in the LSC.
Wheeling trailed a red-hot Fairmont State team 23-3 in the second quarter but the Cardinals would rally and eventually take a lead for the first time early in the fourth quarter. Fairmont State countered with a late 71 yard TD to extend the game to OT but Wheeling won the game with a TD in the first overtime frame.
GAC heavyweights Harding and Ouachita Baptist continue to do what they do. Harding dispatched a decent Arkansa-Monticello team 59-19 and Ouachita upended a very good Southern Arkansas 52-24. There are still some other teams that will have a say, namely Henderson State, but its looking like Harding and Ouachita are on a collision course. Before that meeting on Oct. 14, Harding has a big road trip to Arkadelphia this weekend to face Henderson State.
Franklin Pierce got their second win of the year, 41-2 over Pace. This program is in just year four of competition and have yet to win more than twice in a season. They are one play away from being 3-0 this year.
No. 14 Slippery Rock fell behind visiting Millersville 21-7 but then scored 35 unanswered to beat the Marauders 42-21. Rock WR Kyle Sheets turned in a nomination for offensive player of the week, catching 12 balls for 210 yards and three TD.
A couple of programs we expected to compete for playoff spots earned their first wins of 2023 in resounding fashion. Kutztown drubbed Mercyhurst 47-14, Limestone hammered Carson-Newman 45-14 and Northern State got on the board with a 41-10 win over Mary. I won't be surprised if those results set those teams on their way to winning streaks. Kutztown has a trip to Shepherd this weekend.
We haven't talked much about No.15 Benedict this year and that's partly because they haven't played a good team yet. Regardless of competition, the Tigers have allowed just seven points through three games. They have outscored the opposition by totals of 93-7 so far.
Welcome the Great Midwest, Thomas More. The Saints are in their first year as G-MAC members after transitioning from NAIA. They earned their first conference win in impressive style, taking down Ohio Dominican 18-17.
Albany State won the HBCU New York Classic at MetLife Stadium on Saturday. The Rams beat Morehouse to earn their first win of the season in front of a crowd of 18,000.
We'll close with this. Check out the video of Lock Haven's last second game winning TD pass in the 21-20 win at Clarion.
Remember to watch Inside D2Football for the weekend recap on Sunday night at 8pm, eastern.
Questions, suggestions, comments, complaints? Email me at [email protected] and follow me on Twitter @D2Chuck