Around the Nation - Week Two
September 7th, 2023 5:00am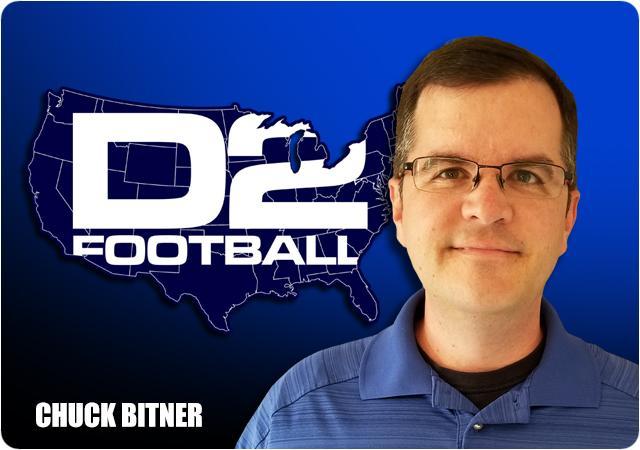 Week one delivered some memorable games, highlighted by the dramatic win by Colorado Mines over Grand Valley, but there were few surprises or upsets. As such, there was little movement in the Top 25 Poll. That doesn't mean nothing interesting happened. Far from it. Week one always gives us a lot to process after a long off season. Before launching into week two, here are a few things I learned from opening weekend, in random order…
-Colorado Mines is ready to jump right back into the national contender conversation. They let Grand Valley off the mat and nearly blew a 21 point fourth quarter lead, but they finished the job and did all the things we expected of them.
-The GAC already looks like what we expected…a three horse race among Ouachita Baptist, Harding and Henderson State. All were very good on opening night. Southern Arkansas looks promising too.
-Notre Dame is still the favorite in the MEC after fending off Ohio Dominican, but Frostburg State is ready to mount a challenge after a big out of conference win at New Haven.
-In the preseason we had some questions about what Northwest Missouri's defense might look like. We still have questions after a close call with Missouri Southern that went down to the final play.
-We'll have to wait a few weeks before we can take stock of the GSC. Delta State and West Florida open with two opponents they should overwhelm, then face FCS opponents in week three.
-None of the PSAC favorites looked especially fearsome. IUP, Slippery Rock and Shepherd all won, but faced bigger challenges than I expected. Kutztown lost at Assumption for the second straight year. Championships aren't decided in week one, but all of them have things to work on.
-Nobody made bigger statements to conference rivals than NSIC favorites Bemidji State and Minnesota State. Bemidji thumped a decent Northern State team while Minnesota State ran over Sioux Falls. MSU will visit Bemidji State on September 30.
-I might want to reconsider my pick for the Great Midwest after Tiffin hung 79 on McKendree on opening day. McKendree isn't great, but they're also not bad. With two more underwhelming opponents in front of them, the Dragons should be flying high heading into the September 23 meeting with Ashland.
-Speaking of Ashland, the Eagles opened with a loss at IUP but were much closer to pulling off a win than I thought they'd be. They'll be a home underdog this week with Ferris State coming to town but this could still be a conference championship team.
-Not sure what to think about the CIAA's week one. As a league, they were 2-5 against out of conference D2 opponents, but 2-1 against FCS opponents.
If you want more of a recap before moving ahead, catch up with the the Week One National Roundup.
Here is the set up for week two…
Week two schedule Thursday 9/07 | Saturday 9/09
Thursday
#17 Wingate (1-0) at Mars Hill (0-0) 7:00
Wingate was thoroughly dominant in their season opener, a 30-7 win over a good Albany State program. ASU had no points on the board and only 170 yards of offense until a very late 80 yard scoring drive long after the outcome had been determined. We knew the Bulldogs would have good defense but I was impressed by the success they had moving the ball against Albany State. The Rams are known for defense too, but Wingate burned them with big passing plays. The Bulldogs had at least six receptions of more than 20 yards. They will have to come right back against another good defense at Mars Hill. The Lions landed five defensive players on the SAC All-Mountain division preseason team, led by D2Football Elite 100 watch list players Tristan Rankin and Landon Honeycut. The Mountain Lions did not play in week one and I do think that is a disadvantage. On the other hand, in a game that should be defensive and physical, the extra week of rest and prep may be on their side. I really liked the play of Wingate's new starting quarterback Noah Bell and I think their offense will bring more to the table. I'll take the Bulldogs in a tight defensive battle.
#3 Pitt State (1-0) at Fort Hays (1-0) 8:00
Pitt State opened with a win over Washburn and while it was a close game most of the way, the Pitt defense seemed to have things under control. For the night, Washburn managed just 217 total yards with just one drive over 50 yards. It's hard to get a read on Fort Hays as they opened against Northeastern State, but it's also hard to downplay the efficiency of the Tigers' passing game with Jack Dawson. The sophomore was 22 of 25 for 317 yards and 5TD. The Pitt defense is a totally different level than what he faced a week ago, but he'll get some yards. I'll take Pitt on the road but I expect it to be closer than last year's 35-14 win.
Game of the Week
#15 Emporia State (1-0) at #5 Northwest Missouri (1-0) 8:00
How concerned should we be that it took Northwest Missouri State all 60 minutes to put away Missouri Southern last week? That's the big question. First, let's address the good things. After a slow start, the Bearcats offense scored on five of the last six drives, excluding the final clock-killer. Their last four drives included nine or more snaps. That's good ball control and dictating the pace of the game. The bad news is the defense gave up too many big plays and allowed a quarterback with three starts to his credit to pass for 307 yards on just 13 completions. That's a problem. A big problem when you consider that Emporia State's Braden Gleason is one of the top passers in the country. Lincoln is nowhere near the same level of competition, but Gleason's day against the Blue Tigers last Thursday was like a pro against a junior high team. 42 of 49 for 442 yards and 5 TD. Now, there is also the elephant in the room. Emporia State has not beaten Northwest Missouri State since 1994. It's a stat that comes up every year, especially if Emporia has a good team. Is it relevant? Not really. Is it hard to ignore? Yeah. Emporia beating Northwest has become something we have to see to believe. Do I believe Emporia can win this Thursday? Definitely. It's very possible that they are the better team right now. But do I also believe that Northwest will find a way to make it 30 in a row? Yes.
Saturday
South Dakota Mines (1-0) at Truman State (1-0) 1:00
South Dakota Mines lost a close one to Truman State in week two of the 2022 season and now The Hardrockers must make the return trip to Missouri for the back end of this home-and-home series. Truman earned a tough 20-10 road win at Findlay last week while South Dakota Mines pitched a second half shutout in a 31-14 win over NAIA member Valley City State. We've gotten to know the Hardrockers as a passing team behind the arm of Harlon Hill candidate Jayden Johannsen, but last week's output was led by 255 rushing yards. I think we'll see them go back to the passing game this week against a physical Truman State defense. The Bulldogs didn't do quite as much as I expected offensively in the opener but if they eliminate some turnovers, I think they'll be better this week at home. Toss up game but I'll take Truman State by a field goal.
Frostburg State (1-0) at Wheeling (1-0) 1:00
Last Thursday, Frostburg State picked up one of the biggest wins of their short tenure as a D2 program with an OT victory at New Haven. They now open the MEC schedule at Wheeling, a program that is starting to become a consistent threat in the conference. Wheeling QB Javon Davis is one of the best offensive athletes in the conference but didn't have a stellar opener. If Wheeling is going to win, he must have a big day. That may be a problem against the efficiency of the Frostburg State passing defense. I also like the balance of the Bobcats offense. I'll take Frostburg State to win another road game.
Emory & Henry (1-0) at Bluefield State (1-0) 1:00
This is unlikely to be a national spotlight game in the grand scheme, but I'm including it because both programs deserve some recognition. Emory & Henry moved from D3 to D2 one year ago and had a respectable 5-6 campaign with a landmark win over Wingate. Bluefield State re-launched football in 2021 less than a year after announcing they would do so. The overall record since then is a remarkable 9-7. In week one, Bluefield State crushed CIAA bottom dweller Livingstone 41-7 while Emory & Henry put is an even more impressive debut, beating Concord 56-10 on the road. I'm going to take E&H in a hotly contested game, but most importantly, I hope this will become an annual meeting as the schools are only 80 miles apart. It would be a fun, annual SAC v. CIAA rivalry game.

Central Oklahoma (1-0) at Central Missouri (1-0) 2:00
Both of these teams are battling to be in the second tier of teams in the MIAA behind the likes of Pitt State and Northwest Missouri. Central Oklahoma stated their claim a week ago with a fine win over Nebraska-Kearney. Central Missouri opened with a thrilling win at Missouri Western that included multiple scores in all four quarters. The things we want to watch are UCO's rushing attack, which posted 273 yards in the opener and UCM's passing threat which was one of the best in the nation in week one with 486 yards and 5 TD. I'm leaning towards Central Oklahoma on the road because I like what their defense was able to do against Nebraska-Kearney, minimizing the impact of the Lopers' TJ Davis who is one of the top offensive players in the country.
West Chester (1-0) at #16 Slippery Rock (1-0) 6:00
Slippery Rock got more of a battle than expected from Wayne State in their opener. The Rock struggled to push the ball downfield in the first half and the absence of Kyle Sheets, who was injured on the first series and did not return, was a big factor. West Chester's defense only allowed 8.5 yards per completion to a good Bentley quarterback a week ago, so Rock definitely needs the downfield passing game. This will also be a different test for the Rock defense. Wayne had some success running the ball but had no passing threat. West Chester's Cooper Jordan had a nice opener, hitting 19 of 27 for 292 and connecting with seven different targets. I expect Slippery Rock to be the better team and get the win, but it should be a four quarter fight. Of note, Slippery Rock is opening the season with three straight home night games. The Rock hasn't lost a night game since 2012. If they win on Saturday, it will be their 30th consecutive night game victory.
#2 Colorado Mines (1-0) at #6 Angelo State (1-0) 7:00
This series is starting to feel like a conference rivalry. This will be their fourth meeting since November, 2021. Both are coming off impressive opening week wins. Mines had a big home victory over Grand Valley while Angelo State pulled away from West Alabama on the road. What we saw from both teams was very reminiscent of what we've seen over the past few years. Mines had the explosive offense and physical defense that defended the run, while Angelo had stifling defense. None of those feats were surprising but what did get my attention was the explosive plays Angelo State was able to pull off against a good West Alabama defense. The Rams had TD passes of 34 and 71 yards along with a 77 yard TD run. All were in the third quarter. There is a lot of speed on the Angelo offense, but I don't see Mines breaking down and allowing those big plays, especially against a team they've become very familiar with. The Angelo defense is a problem but Mines knows how to prepare for it. As long as the Orediggers come right back to earth after the emotional win last week, I like them to get it done on the road in San Angelo.
#1 Ferris State (1-0) at #19 Ashland (0-1) 7:00
Given the number of key leaders Ashland had to replace from last year's team, I really didn't give them a chance last week at IUP. I was wrong about that as the Eagles were right there all night and it came down to the final play. That was a very gritty performance. The downside I see from it is that the Eagles only posted 190 yards of offense and 11 first downs. Going against one of the top defensive units this week will be even harder than last week. If the offense can't stay on the field and muster some first downs and points, this can snowball quickly. Ashland isn't Mercyhurst, but nonetheless, Ferris put on 650 yards in the opener. I like the fight in Ashland but, Ferris will have too much of everything.
#20 CSU Pueblo (1-0) at #4 Grand Valley (0-1) 7:00
There are two ways to look at Grand Valley's loss at Colorado Mines last week. 1) They rallied to erase a 21 point deficit and were a missed FG away from extending the game to OT, where they would have had all the momentum. 2) They fell behind by three touchdowns, which is never supposed to happen. Regardless, the loss makes this weekend's home opener a must win for the Lakers. CSU-Pueblo comes to town off a drubbing of a Midwestern State. I really liked what I saw from the Thunderwolves in that game. They looked athletic and aggressive and that showed with the six takeaways they produced. As good as they looked, it must be said that Midwestern State was the opposite. They are not there yet, especially offensively. It will be a different story against Grand Valley. That said, the Lakers need to establish the run if they want to win and Cade Peterson can't be the leading rusher like he was last week. They have to run the ball with Tyriq Reid and use that production to set up the pass. I believe Grand Valley will bounce back, but this will be a closer game than last year's 35-10 Laker win in Pueblo.
Wayne State (1-0) at #7 Minnesota State (1-0) 7:00
It's hard to be anything other than totally impressed with what Minnesota State did in their opener. Yes, Sioux Falls is in a rebuilding year, but 461 rushing yards and 10.2 per carry is just nuts. That's the kind of domination we saw at the line of scrimmage in past MSU teams.. If Shen Butler-Lawson and Christian Vasser can continue to perform at the level we saw in week one, look out. Conversely, Wayne State had some struggles with MSU Moorhead. On paper its tempting to look at the -3 rushing yards Wayne State allowed last week and think we're in for a great match up of rushing defense versus rushing offense. Not so much. Moorhead didn't even try to run the ball against Wayne. Minnesota State will go right at them and I think they will have enough success to win their home opener.
#18 West Georgia (1-0) at Texas A&M Kingsville (1-0) 8:00
West Georgia had to battle tooth and nail to beat a confident Limestone team at home last week. Now they must hit the road to take on a talented TAMUK. I don't want to overreact too much to week one, because I think highly of Limestone, but West Georgia had 7 points on the board through three quarters. They ended up with three long scoring drives but also had several drives that went nowhere. I can't say I was blown away by Kingsville's offense,but they did what they had to do, got solid QB play, and the defense gave up only 1.4 yards per rush. West Georgia may come out a lot stronger this week but this is a tough assignment and I think Kingsville has an upset in them.
Off the grid game of the week
Each week i shine a small spotlight on a game that doesn't have rankings implications but has something notworthy or interesting that D2 fans should know about.
Walsh (1-0) at Johnson C. Smith (1-0) 1:00
One of these teams is going to make it to 2-0 and that will be a big deal. JCSU hasn't been 2-0 since the 2013 season and Walsh hasn't been there since 2010 while still competing in NAIA. Both defeated MEC teams in their openers. JCSU dominated West Virginia Wesleyan while Walsh held off West Liberty in the final minutes. I'm going with JCSU at home. Their offense has potential to be a problem for a Walsh defense that was tough against the run, but allowed 374 passing yards to West Liberty.
That's all for week two. Remember to watch Inside D2Football for the weekend recap on Sunday night at 8pm, eastern.
Questions, suggestions, comments, complaints? Email me at [email protected] and follow me on Twitter @D2Chuck