D2Football National Column - Week Nine
October 25th, 2023 3:00pm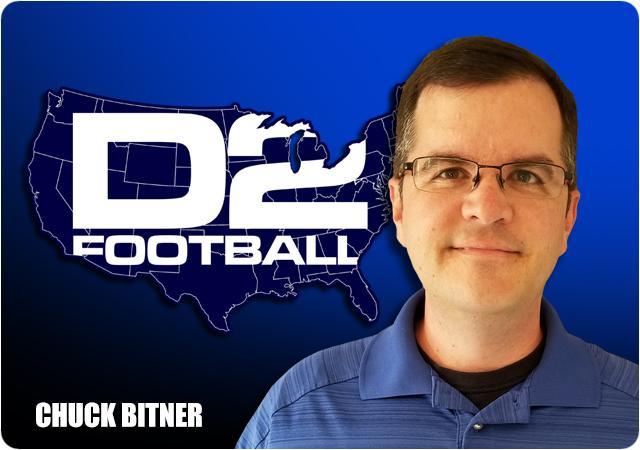 Before we go into the top games for this week, we do have some other topics to discuss.
Regional Rankings
The first round of the regional rankings that will eventually determine the playoff field dropped on Monday. Unfortunately, since the new process of making the first release an alphabetical list was implemented, It's almost a non-event. Figuring out the top 10 teams in each region in an unranked order is not that hard to do and that's what we got in this first release - an unranked list of the ten teams in each region. It doesn't tell us much in terms of what criteria the committee values most, or if we have consistency / inconsistency. We won't get a read on that until we see the 1-10 rankings this coming Monday. Nonetheless, it is that time of year, so if you missed it, here are the regional rankings as of week eight. There isn't much to comment on yet since we don't have actual rankings, so we'll take a knee on that until next week.
If you are new to division II football, you may find this D2 Football Playoff Selection Q&A helpful. This is something I wrote a few years ago and update annually for anyone observing the rankings and selection process for the first time. It can be complicated, so if you're confused, you're not alone.
Bagent excels in NFL debut start
I rarely use this space to talk about D2 alumni in the NFL. We celebrate D2 players in the NFL as their success demonstrates the level of talent that can be found here. Once players move on to professional ranks, it's not D2 news anymore, but I do want to acknowledge 2021 Harlon Hill Trophy winner Tyson Bagent. The Shepherd alumnus won his debut start for the Chicago Bears last Sunday. D2 is well represented in the NFL. Each year, approximately 70 former D2 players will make NFL rosters. But not quarterbacks. It is very rare for a Division II quarterback to make it in the NFL. There have been only three or four that made an active roster in the past 20 years. Bagent entering the season as the backup in his rookie year was extraordinary. Starting and winning a game was beyond anything I had hoped for him. Scouts are not afraid of D2 players. If they were, they wouldn't show up at D2 campuses all year (and they do). But they rarely give quarterbacks more than a token look. Let's hope Bagent's level of preparation and performance opens some doors for future players.
On to week nine…
Frostburg State (6-1) at Charleston (6-1) 12:00
Charleston had a one game lead on the competition in the MEC heading into last week but the Eagles lost a dramatic battle at Fairmont State. That dropped them into a first place tie with Frostburg State, both teams at 5-1 in league play. Both teams still have difficult games ahead so this is by no means the end of the race, but the winner will be alone at the top of the standings with a clear path to the MEC championship. Charleston has the top scoring offense in the MEC while Frostburg has the top scoring defense. The Eagles' offense made some uncharacteristic mistakes last week and that was what cost them the game. If they repeat those mistakes, Frostburg will make them pay. If the Eagles don't give the ball away, then this comes down to which team can establish the run. Both like to run the ball, they are first and second in the MEC in rushing…they're also first and second in rushing defense. It's a very even matchup, but I'm going with Charleston at home. They have a little more firepower on offense and defensively, they do a great job getting off the field on third down.
Ohio Dominican (4-4) at Findlay (6-2) 12:00
At 4-4 overall and 3-3 in league play, competing for the GMAC championship is off the table for Ohio Dominican, but a winning season is still at stake and that's important. The Panthers have strung together 12 straight winning seasons, dating back to 2010. They've won three in a row and that makes them very dangerous for a Findlay team that still has hopes of winning the conference championship and jumping into the playoff picture. Both teams have strong defenses and are exceptional against the run. Both rank in the national top 10 in rushing defense. The difference will be on the offensive side of the ball. Ohio Dominican has been inconsistent all season and the passing game has been unreliable. As a team, they've thrown more interceptions (14) than touchdowns (12). The Oilers are not explosive offensively, but they've been able to rely on the rush and pass at different times during the season. I think this is a low scoring game and Findlay's offense should have a few more plays in them.
#12 Bemidji State (6-1) at Minnesota Duluth (7-1) 1:00
Bemidji State has been out of sight, out of mind since the loss to Minnesota State. But with the Mavericks losing at Augustana last week, the Beavers are right back in the hunt for the NSIC title. They'll get their shot at Augie in week 11. Before then, they have a trip to Duluth. The Bulldogs are 7-1 on the season and also eyeing playoffs and a path back to the conference title. One of them will drop out of the conference hunt and possibly playoffs as well. I like Bemidji to come out on top. They have a physical defense to stand up to Duluth's rushing attack, which is led by quarterback Kyle Waljasper. If they can slow that down, I don't think the Bulldogs have something else to turn to that Bemidji would struggle with. I also like the Beavers' diversity on offense. Duluth has a really solid defense and they like to pressure the quarterback. If they can get to Brandon Alt enough to disrupt him, it will be a huge factor. I think Alt burns them more than they burn him.
Assumption (5-2) at New Haven (5-2) 1:00
I expected this game to be the battle for the Northeast 10 championship. It could still turn out that way, but at present, Saint Anselm is in the drivers' seat with a 4-1 league record and head-to-head wins over both of these teams (and Bentley as well). Regardless, Assumption and New Haven do still have playoff life but their hopes live and die week to week. Both must win-out so that adds a lot of interest and intrigue to the matchup. Unfortunately for Assumption, this matchup comes at a bad time. The Greyhounds have absorbed several injuries in recent weeks, including starting quarterback Jake Cady. Being down a few bodies had a lot to do with being unable to establish any offense last week against Saint Anselm. New Haven is also coming off a tough loss, but they were idle last week and that time to recuperate could be a big factor in this game. Most importantly, New Haven has the best defense in the Northeast 10. Since the opener, they have not allowed more than 14 points in a game. It willl be hard for a struggling Assumption offense to put points on the board.
#10 Augustana (8-0) at Wayne State (5-3) 1:00
Augustana made a huge jump in the Top 25 this week after their surprising win over Minnesota State. It wasn't the result that was shocking. Augie was 7-0 so we knew they had it in them. The way they controlled the game and shut down the Maverick's run game was eye opening. I didn't see that coming. Wayne State turned in a similarly surprising performance, jumping out to a big lead at Northern State, only to see it fall apart in the second half. It's a crushing defeat to overcome, but a bounce back win over Augie would be a perfect way to make it right. I'm going with Augustana because they are the better team, but this is a spot that feels ripe for an upset. These teams are in very different places this week. The Vikings are on a high after the big win and all the attention that came with it. The Wildcats are wounded, mad and probably a little embarrassed that they let that game get away at Northern. Wayne is a good team, they are very tough at home and they will be hungry. I don't expect the Wildcats to have much success running the ball but if Nick Bohn gets hot, they could create trouble for Augie. My concern is that Bohn has had a few too many costly interceptions and they cannot afford any this week. I'm not predicting the upset, but this is a spot where an unbeaten team could go down if Wayne State plays their best football.
#24 Valdosta State (7-1) at #8 West Florida (6-2) 5:00
What an interesting couple of weeks for West Florida. The Argos couldn't get anything going a couple of weeks ago in the loss at West Alabama but then rebounded with a huge win at previously unbeaten Delta State. Rebounding from the bad performance the week before was a big moment for the Argos. It might be one of those team building experiences that propels them to a championship. But they have to come right back down to earth for another tough matchup with a Valdosta State team that is (somewhat quietly) 7-1. On the surface its easy to look at this and say Valdosta State doesn't have the defense. If it turns out that way, it won't be shocking. But football is all about matchups and these two match up with each other differently then each did with Delta State. To beat Valdosta State, you run right at them. West Florida may prove to be capable of doing exactly that, but they don't normally attack that way (Pee Wee Jarrett running the ball might be a big part of the game plan this week) They exploit advantages with their receivers who excel at making contested catches. Valdosta may not be as vulnerable there. The Blazers have a passing threat of their own and I think it's considerably underrated in Division II. This may be a reach, but I think Valdosta State will have success moving the ball and be able to do just enough on defense.
#7 Lenoir-Rhyne (8-0) at Wingate (5-3) 6:00
Wingate's season hasn't lived up to their expectations but a win over LR for the second year in a row would heal a lot of wounds. It will take a huge defensive effort to do it, because I just don't have enough confidence in the Bulldogs' offense. LR has allowed more than 10 points only once this season and that was to a very solid Limestone team. I think Wingate's defense can keep this low scoring but their offense has to elevate. The good news is they are coming off one of their best performances of the season, a 479 yard day in the win at Barton. But I don't think they will have enough for one of the top five defenses in the country. LR gets it done on the road.
Edward Waters (5-3) at Allen (5-2) 2:00
Allen and Edward Waters are two of the newest additions to Division II. To be totally transparent, when each was announced as an incoming SIAC member I didn't think either would be relevant any time soon. Well, look at the SIAC standings. Both are in the top half, with Allen at 5-2 and Edward Waters at 5-3 . EWU has won five in a row after a 0-3 start. The last two wins were over SIAC establishment, Tuskegee and Albany State. Allen also has a win over Albany State to their credit. A player to watch is Allen QB David Wright. Interceptions have been a problem, otherwise we'd have to mention his name among the best in D2. He's third in the nation in passing yards per game, ahead of names like Brayden Gleason and John Matocha. I'm going with the hot hand, Edward Waters, but really just want to shine some spotlight on two programs that are punching above their weight in their early years of D2 membership.
#25 Central Washington (6-2) at Texas A&M-Kingsville (5-2) 8:00
Central Washington jumped into the Top 25 this week following their sixth straight win. The Wildcats are unbeaten in Lone Star Conference play, along with UT-Permian Basin. They will meet in the final week of the regular season. It will be Central Washington's third trip to Texas in less than a month, but before then, they'll head to Kingsville. These teams have a few things in common. Neither is explosive offensively, but they are opportunistic and they play very good defense. Central has a solid run game to hang their hats on and that will be the key to winning this one. I'm tempted to pick Kingsville in an upset because this is a tough road trip for CWU. It's a night game and the final home game of the season for TAMUK. But Central Washington is the better team right now and the Javelinas have too many unknowns at quarterback. Due to injuries, they've started four different quarterbacks and we don't yet know who we'll see on Saturday night.
Game of the Week
#13 Western Colorado (8-0) at #1 Colorado Mines (8-0) 2:00
Colorado Mines has been in the top five since the preseason. The Orediggers jumped to No. 2 following the opening night win over Grand Valley and ascended to No. 1 just two weeks ago when Ferris State lost to that same Grand Valley team. By contrast, Western Colorado began the year unranked. The Mountaineers have slowly climbed the rankings as they've accumulated some impressive wins, but to be perfectly honest, I think we have them underrated in the D2Football Top 25. Western Colorado currently sits at #13 but I had them at #7 in the poll I submitted last Sunday.
This game is everything you could want. The only thing that would make it better is if it landed in week 11 instead of week 9. But this is going to be a battle. Both teams are undefeated and the class of the league in the RMAC. Here is what I find most interesting about this matchup…we know Mines as an offensive juggernaut and we know Western as a defensive force. But Western Colorado's offense is a lot better than you might think it is and Mines' defense is right behind Western's in the RMAC. Mines is a team with very few weaknesses. They do everything well and in most areas, they excel. John Matocha is the key to all of it, but Max Mcleod is on pace for a first team Elite 100 season and they are getting good production from a host of running backs.
Western may have the defense to slow them down enough to give their team a chance. The Mountaineers are very tough in the defensive front and have a couple of linebackers playing at a very high level. Ricky Freymond and Kendall Lightfoot are second and third in the RMAC in tackles for loss. I do believe the Mountaineer defense can do enough to keep this game within reach. A lot will come down to the Western Colorado offense and I believe they'll need a little more from the passing game than they normally get.
Picking against Mines with this roster is never a good decision. The Orediggers haven't lost an RMAC game since Oct. 23, 2021 but all streaks come to an end eventually. I think Western Colorado has the team to do it.
Off the grid game of the week
West Virginia Wesleyan (0-7) at Concord (0-8)
It's been a long time since West Virginia Wesleyan had a winning team so I'm not surprised to see the Bobcats still fighting for their first win this late in the season. Concord is a different story. Sitting at 0-8 less than one year after finishing a 9-2 season is downright shocking. They missed out on the playoffs by the slimmest of margins and now they're staring down a winless season. Did not see that coming. I think they'll beat Wesleyan because they do still have a more talented team, but it's not a given. Not with the way Concord has been outplayed at the line of scrimmage in recent weeks.
At least one of the winless teams will notch a W this weekend. Here are all the remaining winless teams that we want to see in the win column soon.
Clark Atlanta
Chowan
Concord
Erskine
Fort Lewis
Lincoln (Mo)
Mary
Morehouse
Northern Michigan
Northwestern Oklahoma
Saint Augustines
Southwestern Oklahoma
West Virginia Wesleyan
That's a look at week nine. Remember to watch Inside D2Football for the weekend recap on Sunday night at 8pm, eastern. We'll project the playoff picture for all four super regions.
Questions, suggestions, comments, complaints? Email me at [email protected] and follow me on Twitter @D2Chuck