D2Football National Column - Week Ten
November 2nd, 2023 1:00pm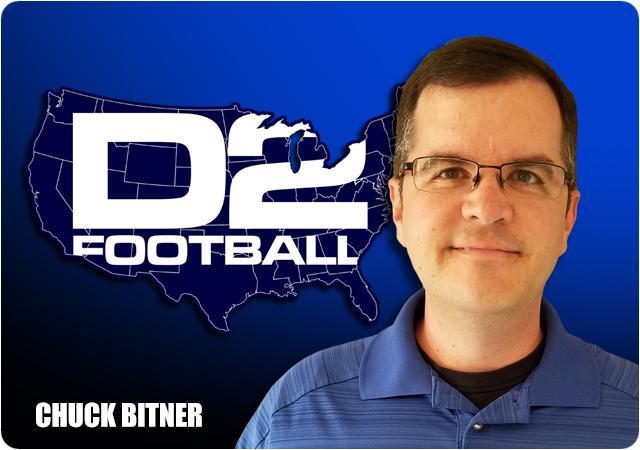 Before we look at week ten, we do need to revisit the big story from earlier this week. The first rankings of teams 1 through 10 in each of the four super regions that will determine the playoff field were released on Monday. If you missed the news, check out the October 30 Regional Rankings release before reading further. If you are still new to this process and if you missed it before, you may find this Playoff Selection Q&A helpful.
The regional advisory committees did a good job overall and there are only a few minor changes I would make. Here are a few of my thoughts on each region…
Super Region One
The first thing to say about SR1 is there are still many games to be played that will impact the rankings so I don't feel strongly about anything on the board this week. The top 10 turned out mostly the way I expected. Slippery Rock, Tiffin and Charleston as the top three were easy to determine for the committee. The biggest question was where East Stroudsburg would land because they have a great record but the other metrics are not as good (yet). Looking at the criteria in different ways, I found paths to placing them as high as four and as low as seven. I can tell you from seeing them in person, the Warriors are a very good team. The 8-1 record outshines Frostburg State, California and Kutztown. However, the strength of schedule and wins against teams over .500 work against them. At this point in the season, I would rank 4) Frostburg State 5) California 6) Kutztown 7) ESU. Part of that decision making accounts for head to head results. Cal beat Kutztown, Kutztown beat ESU. But I have no objections to the ranking based on the records at this point. ESU has played like a top team in the region. They're at Shepherd this week and host Cal next week, so SOS will go up against quality opponents and we'll see where they belong after the results of those games. Shepherd's unexpected loss cost them dearly but they can play their way back into the field with a win this week.
Super Region Two
Like SR1, the top three in SR2 were easy to nail down. No debates there. Benedict's SOS is not good but nine wins over D2 opponents including three teams over .500 lands them in P1. Delta State and Valdosta State were easy choices for second and third. West Florida in fourth means they got a lot of credit for SOS. It is quite a bit higher than Lenoir-Rhyne and Mars Hill, so even with a lower winning percentage, they got P4. I would be fine with that but if I go back to what I said about SR1, it's the opposite here. In SR1 they valued record and here they valued SOS. The teams to keep an eye on in this region are Virginia Union and Virginia State. Both are currently 8-1 so it's fair to ask why they are so low in the rankings (VSU is not even in the Top 10 yet). It's a simple explanation: strength of schedule. It's horrible for both teams. Out of 165 teams, there are only five teams in the country that have lower SOS than the Panthers and Trojans. Virginia State has just one win against teams over .500 and Virginia Union has zero. These are the variables weighing them down, even with very good win/loss records. They'll get a boost from each other this week and the winner will get another boost from Fayetteville State in week 11.
Super Region Three
Pittsburg State and Harding were undoubtedly going to be first and second. To date, their resumes are very similar. Harding has a tiny edge in SOS but it's negligible. They have the same number of wins against teams over .500 (4). Harding's best win is Ouachita (8-1) and Pitt's is Central Missouri (8-1). There really isn't much to distinguish them and the committee went with Pitt. Grand Valley at three was easy, the SOS outweighs the loss so I fully expected them to be ahead of Indianapolis, who is undefeated. The committee applied the same logic with Central Missouri, landing them fourth and bumping Indy and Davenport to fifth and sixth. I have no objections to any of that. Two-time defending champion Ferris State in eighth was probably eye opening to many, but based on record and SOS, it's a fair ranking. A win over Davenport this weekend will get them into the field. Missouri Western in ninth was a small surprise. Southern Arkansas, Truman State and Missouri Western are all 7-2. Mo Western's SOS is a distant third in that group of three teams and they have the same record against teams over .500 as Southern Arkansas. My best guess is the committee looked at Western's two losses (7 points to Central Missouri, 4 points to Northwest Missouri) and felt better about those results than Southern Arkansas' blowout losses to Harding and Ouachita and Truman's bad loss to Southwest Baptist.
Super Region Four
I really have nothing to nitpick in Super Region four. Minnesota Duluth probably feels like they should be on the page at 7-2 versus Angelo State and TAMUK, but their SOS is so low at this point, I understand it. Just in terms of records, there is a drop off in this region after the top seven. I think it is very likely the top seven as of today will be the playoff seven a week from Sunday, just in a different order.
Week Ten Top Games
#4 Ferris State (6-2) at #13 Davenport (8-0) 12:00
It's easy to doubt Davenport. The schedule hasn't been especially difficult up to this point. The only opponent the Panthers have faced that currently sits above .500 is Bowie State. That doesn't mean they aren't a formidable team though. They've taken care of teams that aren't on their level and against a few of the more talented squads, they found ways to win close games. The Panthers have some offensive talent to create problems for Ferris State. Myreen Harris is a tough inside runner that has added a lot to the Davenport offense. They have a couple of receivers that play the ball extremely well and of course, a very capable quarterback in Jason Whittaker. Those are all things we would expect to hear based on how we got to know Davenport last year, but they've also been very good defensively. Nationally, they are in or near the top 20 in all team categories. Is any of this enough to beat Ferris State? On a good day for Ferris, no, it's not. But not every day is a good day for the Bulldogs. They've had games that were full of mistakes, turnovers and penalties. On most days they're good enough to overcome all of it, but I wouldn't want to play any less than my best against a Davenport team that knows how to win. I think Ferris would love to win this with the ground game led by Carson Gulker and I will be really curious to see how well they can do it. Davenport has a good defensive front and Ferris is not as dominant at the line of scrimmage as they've been in recent years. I do think the Bulldogs will be well prepared and fully focused. I think they're going to look at the regional rankings that came out this week and be really miffed about it. They are the two-time, defending national champs and this is their opportunity to remind everyone of that. I'm taking the Bulldogs but I believe Davenport can hang around in this game.
California (6-2) at Gannon (5-4) 12:00
Neither team is nationally ranked and only one team is in play for a postseason bid. Why is this game relevant? Because Gannon is sneaky good. They may be 5-4 but they're 5-1 in the PSAC west division and the only divisional opponent they've lost to in the last two seasons is Slippery Rock. They are well aware that a win on senior day would not only secure a winning season, but also knock Cal out of playoff contention. Gannon's defense has played very well in recent weeks but Cal brings a lot to the fight offensively. WR Eric Wilis stands just 5'8" but he's one of the biggest offensive weapons in the PSAC averaging 18.4 yards per catch. I think this is a closer game than records might suggest, but Cal should get it done. One thing to be aware of…if it's close in the final minutes, Gannon's kicker Eric Scarpino is 14-14 on field goals, including game-winners at the buzzer in the last two weeks.
East Stroudsburg (8-1) at Shepherd (7-2) 12:00
Shepherd lost their most important game of the season back in September (Kutztown) but appeared set to breeze into the playoffs and see if they can peak at the right time. That was before they ran into an inspired Bloomsburg team and took an unexpected loss. It was the kind of game that may not even be worth watching the tape of. It was a bad performance and everyone on the team is responsible for it. I think they need to just forget it. Be angry about it, allow it to be a rally point, but forget it. They're better than that and they can prove it this weekend against a very good East Stroudsburg team. If Shepherd's offense has one of their good days, and if they don't turn the ball over, they can win. But they don't always have a good day. In their two losses, the common factor was devastating giveaways. East Stroudsburg's defense is one of the best in the conference and they are good at creating turnovers. As a team, they are +13 in turnover margin. The Warriors have battled injuries at the quarterback position, starting three different players throughout the year. They've been successful with all three and are back to opening day starter Aaron Tobias. He struggled a bit last week with rustyness but I expect him to be better this week. I think this is a 20-17 kind of game and ESU's defense will create a timely takeaway to get the win.
Findlay (7-2) at Ashland (6-3) 1:00
Ashland had a rough start to the season but they're riding a five game winning streak and do still have life in the GMAC championship chase. Findlay dropped a stunner in Northwood a few weeks back, but they're 6-1 in conference and still have unbeaten Tiffin ahead in week 11. With wins in the next two games, the Oilers could be crowned champs and find themselves in the playoffs. All that adds up to a whole lot to play for on both sidelines. I am giving a slight edge to Findlay because their defense has been playing at a high level and their offensive line is probably the best in the GMAC. That said, these two are very evenly matched and it can go either way.
Allen (6-2) at #7 Benedict (9-0) 1:00
Benedict and Allen are literal neighbors. Not cross-town, or down the block neighbors. They are directly across the street from each other. Obviously that makes for a natural rivalry and the fact that both programs have possibly the best team they've ever had makes it pretty exciting. Benedict should win but I really do want to see how their defense does against Allen's passing game. The Yellow Jackets are third in the nation in passing offense, averaging 346 yards per game. Quarterback David Wright is third in passing, behind only Zach Zebrowski of Central Missouri and Jack Strand of Minnesota Moorhead. He'll have his work cut out for him against the defense that leads the nation in passing yards allowed. I'm picking the Tigers but I won't be surprised if this comes down to the very end. Allen is a good team with a lot of confidence.
Fort Hays (7-2) at #8 Central Missouri (8-1) 2:00
We've talked about Central Missouri a lot this year but a team that has gotten very little attention is Fort Hays. The Tigers are somewhat quietly 7-2 and riding a five game winning streak. Playoffs are unlikely, but with wins over Central Missouri and Emporia State in the next two weeks, it's not impossible to make the field. At this point, it should be obvious to everyone that to beat Central Missouri, you must find an answer for their formidable offense that leads the MIAA in scoring, total offense and passing offense. That can be scary, but...Guess who leads the MIAA in total defense, passing defense and passing defense efficiency? This could be a tough match up for Central Missouri. Central had their worst passing day of the season last week at Missouri Southern with just 223 yards and a pair of INTs thrown. It might have been good for them to face some struggles and the good thing about it was the run game stepped up and did the heavy lifting with 264 yards. Fort Hays can match up with the Mules, but I'm not willing to predict the upset. Central Missouri has too many strengths to lean on.
#3 Pittsburg State (9-0) at #24 Missouri Western (7-2) 2:00
As mentioned in the SR3 ranking reaction, I was slightly surprised to see Missouri Western's name. A win this weekend would remove doubt as to whether or not they belong. The Griffins have already exceeded expectations this year but imagine what a win over the defending MIAA champs would do for them. I think they can compete in this game. Both teams are in the MIAA's top three in scoring offense and scoring defense. The difference will be Pitt State's rush defense. The Griffins do a lot of things well but running the ball is a priority. They lead the MIAA in rushing touchdowns but the Gorillas' defense has given up just three rushing TDs all year. That's the critical matchup I'm looking at. If the Pitt run defense holds up, they'll win a tough road game. I do think Pitt State comes out on top but this may end up being the toughest matchup they've had outside of UCM.
#12 Delta State (7-1) at West Georgia (6-2) 6:00
West Georgia has to feel pretty good this week. Their 6-2 record and strength of schedule landed them at eighth in the SR2 rankings. With Delta State and Valdosta State left on the schedule, it's nearly a guarantee that they'll be in the playoffs if they win both. It's always a good feeling to control your fate. For the Wolves to win these last two games, the defense will have to play above itself. They're not bad, but not bad won't be good enough against the two best offenses in the GSC. The Wolves ended up in a tight battle with Shorter last week because the defense struggled to put that game away. Delta State has a lot of things they do well offensively. West Florida has been the only team that could throw them out of synch but I don't believe West Georgia can replicate that. Delta State has also had a bye week to recuperate and prepare for this game. I'll take the Statesmen to pick up a road win.
Game of the Week
Virginia State (8-1) at #20 Virginia Union (8-1) 1:00
The game of the week takes us to Richmond where long-time rivals Virginia Union and Virginia State will meet to decide the CIAA north division title. The winner moves on to the CIAA championship game next week against Fayetteville State, who has already wrapped up the south title for the sixth year in a row. The loser will take a knee at 8-2 and nervously wait to see if their body of work is good enough for a playoff bid.
The Panthers and Trojans have similar strengths. They run the ball well and play good defense. The interesting thing is, if you go back to last year's meeting, it was the offense that was more effective throwing the ball that won the game. Neither team was able to establish the run as well as they wanted to but VUU had more success (and made fewer mistakes) with the passing game. It could turn out the same way this Saturday, but I do think Virginia Union will have success running the ball. Jada Byers dealt with injuries earlier in the season but that may have set him up to be at his best at the right time. In the past two weeks, the Panthers have used him as little as possible, but go back to the win at Bowie State and you'll see the impact he has when fully deployed.
It's a very even matchup but Virginia Union is not going to let the opportunity get away from them. Last year, they had a bad day at a bad time and missed out on the CIAA championship game. I don't believe they'll let that happen again.
Off the Grid Game of the Week
Each week I use this space to shine some light on a game that has no impact rankings or playoffs. This week, we look to the Atlanta University Center. Clark Atlanta University and Morehouse College are two of the institutions that make up the AUC Consortium. The campuses run into each other and each team's home field is a just a short walk from the other. Both teams are winless so i'm not going to pretend this is a great matchup, but it sure is important to these teams and it will determine who wins a game and who doesn't. Clark-Atlanta has had more close calls but Morehouse has played the tougher schedule. Only two teams in the country have a higher SOS than Morehouse. I think Morehouse comes through and gets their first win with first year coach Gerard Wilcher.
Those are your top stories from week nine. Remember to watch Inside D2Football for the weekend recap on Sunday night at 8pm, eastern. We'll project the playoff picture for all four super regions.
Questions, suggestions, comments, complaints? Email me at [email protected] and follow me on Twitter @D2Chuck