GLIAC Week 5 Review
October 7th, 2019 8:19am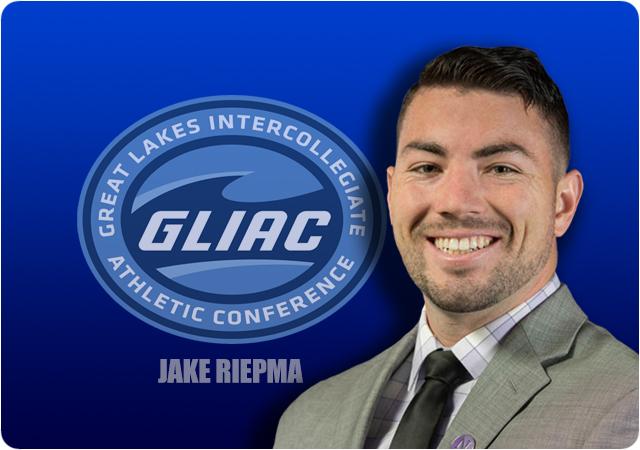 Divine intervention struck in Allendale for the Ashland Eagles as a Hail Mary for the ages was answered on the final play of the game when Austin Brenner found junior wide receiver Logan Bolin for a game-winning 52-yard touchdown pass– a play that will live on forever.
Meanwhile Ferris State and Saginaw Valley State both win running away, and don't look now, but Wayne State is undefeated in conference play after going on the road and handling Northern Michigan.
Week five in the GLIAC will be remembered by the Ashland Hail Mary, and rightfully so. It's hard to even fathom how that type of play unfolds, but here we are, and that's why we love this crazy game. An absolutely crushing blow for the Lakers, and perhaps a season-defining triumphant moment for Ashland. As for my other weekend takeaways – the No. 2 team in the country Ferris State showed up in a big way Saturday as opposed to the turnover-prone team that we saw wearing the Bulldogs uniforms last week, and SVSU's skill and athleticism is impressive, as they overpowered Northwood. As for Wayne State, they also appear to be a team with multiple identities, early in the season it was a pedestrian looking squad, but once again this week, the lethal rushing attack dominated in Marquette, and the Warriors appear to be coming into their own.
Five weeks into the season and two weeks into conference play, here's where we stand:
Grand Valley State head coach Matt Mitchell to his credit, answered the tough questions following the devastating loss, and was frank with the media telling them his team needs to be better in closing out games. The Lakers' had a couple of close wins early in the season, but the luck simply ran out against a good Ashland team, who despite a tough start, seems to be coming into mid-season form right on cue. Ashland surges ahead in the standings and will take on Davenport next week, while GVSU won't have time to feel any self-pity, as the Lakers get ready for the "Battle of the Valleys" next week at home against SVSU.
Speaking of SVSU, they win the annual "Axe Bowl", and retain possession of the coveted Axe and surely have already added a fresh coat of red paint to the handle. I just threw up, but it is what it is – the Cardinals were the better team, as Northwood wore down and couldn't keep up with the firepower of Nate McCrary and Ryan Conklin. Being at that game, the first half was a wild half of football – one of the strangest plays you will see when Northwood's Dimitri Abro returned a blocked field goal 95 yards for the game's first score. Fast forward to the end of the first half, with Northwood trialing 21-14 and driving in for a tying score, Marvin White picked off a pass and returned it 92 yards for a score, giving SVSU a 28-14 lead going into half – the turning point in the game as SVSU never looked back and cruised to the win. I must give credit to SVSU, who despite making some early mistakes, made the plays when it mattered the most and were a step faster than NU all day. Northwood falls to 0-5 and will take on Hillsdale next.
The Cardinals will need the same time of effort this coming weekend in another rivalry game as SVSU heads to Allendale for the "Battle of the Valleys."
The question surrounding the Ferris State football team is and continues to be, "Who is this team's quarterback?"
FSU head coach Tony Annese answered that question following the 35-7 win over Davenport by saying emphatically, "we are certain that whoever's playing quarterback is good, so there's no uncertainty when it comes to the quarterback play."
Well there you go – whether it's Jayru Campbell, Travis Russell, or Evan Cummins, FSU is set at quarterback. On Saturday, it was Cummins and Russell combining to blowout an overmatched Davenport team with Cummins accounting for four touchdowns. I know in my preview from last week, I thought FSU might struggle in this game, but I still picked them to win, and boy did that get some of you crazy Bulldog's tails in a bundle, so sorry about that! FSU proved once again, until someone can dethrone the reigning champs, it's foolish to ever doubt them. Ferris State heads to Detroit to take on Wayne State, while Davenport will look to bounce back on the road against Ashland.
Last, and certainly not least, look out for the Warriors of Wayne State! After an 0-2 start, Paul Winters' squad has rattled off three straight wins, and are undefeated in GLIAC play and just a half game behind Ferris State who is 3-0 in the conference. Wayne State used another solid run game to steadily defeat the Northern Michigan Wildcats to the tune of a 358-38 advantage on the ground, with graduate student Deiontae Nicholas rushing 19 times for 162 yards while King Sanders contributed 72 yards on just eight carries (9.0 ypc). Wayne State is playing their best football of the season in time for a showdown at home against No. 2 Ferris State Saturday night in Detroit.
As for Northern Michigan, it's their turn to bounce back as the Wildcats head to Houghton for the annual "Miners' Cup" game against Michigan Tech who is fresh off a bye week.
I've waited this long to reveal my record with the picks, because obviously this week didn't go so hot for me – 2-2 on the weekend…. I was wrong on my Northwood and Grand Valley picks, while FSU and WSU came through for me. You all deserve better, if I were you, I'd stop reading the column until I redeem myself and prove worthy of your reading support with a better showing in 'Pick'Em.
Here's to five weeks in the books, and another big weekend ahead. Stay tuned for this week's GLIAC Football Weekly, as well as the week six preview.