2022 MIAA Week Two Column
September 7th, 2022 6:00am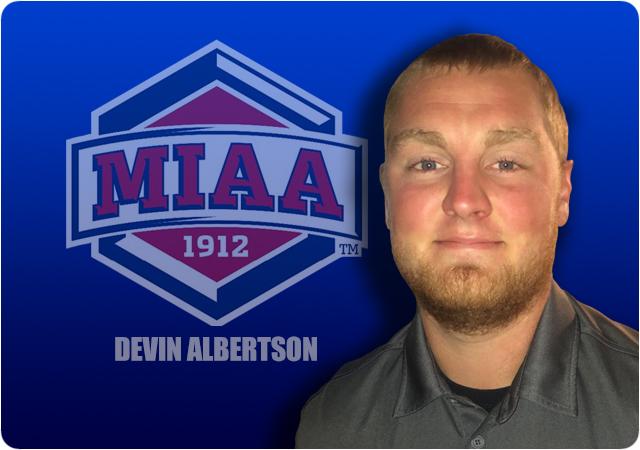 Week One in the MIAA is in the books, let's look ahead to Week Two. But before we do, I am introduing something new in the column.
So this year, I have decided to include a uniform review in my columns. I hope you enjoy it. #LookGoodPlayGood
*All references to the photos used are at the bottom of the column.
Week One Uniform Grades
Northwest Missouri: A+
The All-white look is fantastic for the Bearcats.

Emporia State: A+
I am a sucker for all-black uniforms. The gold pops so well. One of my favorite looks of the week.

Lincoln: A+
The all-white, Penn State-esque look was fantastic. Well done Lincoln.

Missouri Western: A
The all-black is a great look. The yellow feathers on the helmet looked great as well.

Washburn: A
The all-blue with the chrome logo on the helmet is a great look.

Central Missouri: A-
I love the all white look with the red helmet. One of UCM's better uniforms.

Nebraska-Kearney: A-
Nothing flashy but a solid look with the blue-white-clue. If it is not broken, do not fix it.

UCO: A-
White helmets, white tops and blue bottoms. A sharp look for the Bronchos.

Pittsburg State: B+
The red on white is a clean look. I just prefer the red on yellow and it would have contrasted better against UCM's look.

Missouri Southern: B+
Overall, a solid look with the yel;low-green-green. I would have preferred the green logo on the helmet instead of the yellow.

Northeastern State: C+
Gray jerseys with white numbers? Just not good. The only reason this look isn't a D is the helmet. That design is sweet.

Fort Hays: C-
In general, I do not care for gray uniforms. The helmet is still nice but the gray unis with yellow numbers is just blah. The numbers were big and easy to read though, so that is a plus. All black would have been a better look.

Week One Game Recaps
Northwest Missouri 33 Fort Hays 19
Going into the season, I was curious to see what Northwest Missouri would do at quarterback with Mike Hohensee and Braden Wright. After one game, I am pleased with the plan. Hohensee looked crisp and accurate as QB1 and played with great confidence and swagger. Wright provided a spark plug in the running game and did have a couple nice throws (one for a touchdown and another that was a touchdown but was dropped). The trio of running backs in Jamar Moya, Tank Young and Kevin Dominiqueare intriguing. The wide receivers still have a lot to prove, but the offense shows promise.
Also, a quick shoutout to my new favorite Bearcat in left tackle Andrew Theobald. What more could you ask for out of your tacke? The facial hair, the neck roll and he wears #69. Andrew also followed me back on Twitter, so we are pretty much best friends now.


The Northwest Missouri defense struggled to get pressure early, but I think a lot of that can be credited to Fort Hays and their gameplan. Lots of quick passes to negate the pass rush. Later in the game when Chance Fuller was trying to push the ball downfield, Zach Howard was able to get three sacks. Not only is Zach Howard a stud (with a tremendous sack celebration that you can see in the uniform picture above) but so are Isaac Vollstedt and Sam Phillips at linebacker. Vollstedt was all over the field and played like his brother Jacob did for the Bearcats from 2013-16. The secondary was a huge question mark for Northwest Missouri coming into the year but Charles Gadie and Shane Fredrickson jumped off the screen (in a good way) for the Bearcats. Gadie had five tackles, two forced fumbles and a pass breakup before leaving the game early with an injury. Fredrickson had eight tackles (seven solo) and once he hit you, you were done. Fuller is still a stud for Fort Hays and I expect the Tigers to be improved this year. Fort Hays dropped a touchdown and struggled in the red zone on Thursday night. One or two tweaks and the offense will be just fine. The Fort Hays special teams had a few good kickoff and punt returns. The turnovers and red zone efficiency were the difference. I expect Fort Hays to clean that up and be a dangerous team in 2022.
Pittsburg State 21 Central Missouri 10
Pittsburg State moved the ball early but had a field goal blocked and a red zone turnover. A huge third and long conversion by Chad Dodson to Devon Garrison was huge. Pittsburg State scored on the next play with a beautiful throw from Dodson to Bryce Murphy. It went from 3rd and 18 at the Pittsburg State 47 to a touchdown in two plays. Dodson would connect with Murphy a couple drives later for a 53 yard touchdown. The Pittsburg State offensive line has good size and consistently got push in the running game. The pass blocking was not great though.
The Central Missouri offense was hard to watch. Cedric Case and his wide receivers were not on the same page. If Case made a good throw, it was dropped. If the receiver got open, Case would misfire on the throw. Even after a blocked punt in the second quarter when Central Missouri got the ball at the Pittsburg State 46 yard line, Central Missouri turned it over on downs.
Pittsburg State alums and NFL players John Brown and De'Vante Bausby were in attendance and got recognized in the stands. I love seeing former MIAA players in the NFL coming back to watch games.
Missouri Western 35 Central Oklahoma 0
Missouri Western controlled the line of scrimmage on both sides of the ball. If you can control the line of scrimmage, guys like Reagan Jones, Brandon Hall, Traveon James and Cooper Burton are going to blossom. It is going to take some time for Adam Dorrel to get Central Oklahoma where they need to be at the line of scrimmage.
Nebraska-Kearney 24 Missouri Southern
Nebraska Kearney marched right down the field on its first drive on a 10 play, 85 yard touchdown drive. The next three drives, Nebraska-Kearney was held to negative three yards. While Nebraska-Kearney struggled to pull away from the feisty Lions, the Lopers did move the ball over the next four drives, averaging 11 plays and 61yards. Nebraska-Kearney only came away with three points though as the half ended with the ball at the one yard line and two missed field goals from within 40 yards. Missouri Southern's lone touchdown came off a short field via a TJ Davis interception. The Lions were held to 82 yards rushing and 187 total yards of offense. An encouraging performance by the Lopers defense that was shaky at times in 2021. This game was closer to being a Nebraska-Kearney blowout than a Missouri Southern upset win.
Emporia State 42 Northeastern State 17
Emporia State's Braden Gleason is still one of my favorite quarterbacks in the MIAA. Gleason had a big boy throw in the second quarter. Northeastern State had a free blitzer and Gleason stood tall in the pocket and delivered a dime up the seam to Dexton Swinehart for a 22 yard gain down to the two yard line. Gleason finished the day with a stat line of 23 of 37 for 312 yards and 3 touchdowns passing and ran for another touchdown. Northeastern State was able to run the ball a bit on the Emporia State defense, but the passing game struggled mightily.
Washburn 45 Lincoln 3
If this game was not a blowout, I would have had serious questions about Washburn. Not much else to say about this game other than Kellen Simoncic played well and got more reps to get ready for the rest of the season. Oh and James Letcher Jr is still an absolute stud and he had five receptions for 177 yards and a touchdown.
MIAA Week Two Power Rankings
Northwest Missouri (1)

NebraskaKearney (2)

Pittsburg State (3)

Washburn (4)

Emporia State (5)

Fort Hays (6)

Missouri Western (8)

Missouri Southern (9)

Central Missouri (10)

Central Oklahoma (7)

Northeastern State (11)

Lincoln (12)

Not much change in the power rankings this week. Central Oklahoma fell from seven to 10 while Missouri Western, Missouri Southern and Central Missouri all went up one spot.
MIAA Picks
Last Week: 5-1 (83.3%)
Season: 5-1 (83.3%)
Week Two Game Previews
A quick reminder that the first four games will be on Thursday night and the last two games are on Saturday afternoon.
I went back and looked at my 2021 MIAA Week Two Column to see what I said about the games last year. I went 1-4 in my picks last year during this week. So if I pick against your squad this week, you are welcome. If I throw my support behind your team, I apologize in advance.
Game of the Week: Pittsburg State (1-0) at #12 Nebraska-Kearney (1-0)
All-time series: Pittsburg State leads 14-9
Last Year: Nebraska-Kearney won 28-17
I expect Nebraska-Kearney to win this ballgame. The defense looks improved and the offense is still moving the ball with ease with the ground game led by TJ Davis. Pittsburg State hit on three big pass plays last week, they are going to need a couple more of those this week to pull off the upset on the road. I think it is a close game, but I trust Nebraska-Kearney to win those types of games with Davis at quarterback and Josh Lynn at head coach.
Nebraska-Kearney 24 Pittsburg State 20
Missouri Western (1-0) at Fort Hays (0-1)
All-time series: Missouri Western leads 17-12-1
Last Year: Missouri Western won 38-31
This game. I went back and forth all week on this game. Reagan Jones was named the MIAA Offensive Player of the Week and the Missouri Western offense should travel well across the barren state of Kansas. Fort Hays is a dangerous team. I expect the Tigers to try to run the ball more this week to help balance out the offense (I think they knew trying to run on Northwest Missouri is a waste of plays). I trust Chance Fuller and Head Coach Chris Brown at home to pull out a close win. If this game was in St. Joseph, I would have taken the Griffons. If these offenses don't get into the 30s, I would be shocked.
Fort Hays 31 Missouri Western 30
#22 Washburn (1-0) at Central Missouri (0-1)
All-time series: Central Missouri leads 28-20-2
Last Year: Washburn won 29-10
This is Washburn's first test of the season. Central Missouri did make things tough on Pittsburg State, but the offense is a massive work in progress at this point. I expect this game to look similar to last year's contest and Washburn cruises to a 2-0 start.
Washburn 34 Central Missouri 14
Emporia State (1-0) at Central Oklahoma (0-1)
All-time series: Central Oklahoma leads 11-10-1
Last Year: Emporia State won 31-21
Emporia State is flying under the radar right now in the MIAA. I like the makeup of this team. The Hornets are well coached and have one of the best quarterbacks in the conference in Braden Gleason. The lefty was quite impressive last week and would have gotten my vote for offensive player of the week. On the other sideline, Central Oklahoma looked overwhelmed in St. Joseph last week. Emporia State and Missouri Western got a good draw by catching Central Oklahoma early in the season. If this game was being played in week eight, I might consider taking the Bronchos. But this one is all Hornets for me.
Emporia State 40 Central Oklahoma 21
#3 Northwest Missouri (1-0) at Lincoln (0-1)
All-time series: Northwest Missouri leads 16-7-1
Last Year: Canceled-COVID
Mike Hohensee and Braden Wright will both get plenty of time at quarterback this week. Heck, QB3 might get a few snaps this week. In reality, Northwest Missouri has probably put more scholarship money into their front seven on defense than Lincoln spent for their entire roster. #CatsBy90 is a possibility this week.
Northwest Missouri 69 Lincoln 6
Missouri Southern (0-1) at Northeastern State (0-1)
All-time series: Missouri Southern leads 6-3
Last Year: Northeastern State won 21-17
Missouri Southern offense was lifeless in week one, but this is a revenge game for the Lions. Northeastern State came into Joplin last year and beat Missouri Southern in a low scoring game. Missouri Southern is a much better team than they were this time last year. Missouri Southern cruises to a win here.
Missouri Southern 38 Northeastern State 21
References:
https://twitter.com/NWBearcat_FB/status/1565732602899795973?s=20&t=c5bx0V0qa-PwyuwqAf63_A
https://twitter.com/esuhornetsfb/status/1565396730614616065?s=20&t=c5bx0V0qa-PwyuwqAf63_A
https://twitter.com/GoBlueTigers/status/1565531845185486848?s=20&t=c5bx0V0qa-PwyuwqAf63_A
https://twitter.com/chrisRroush/status/1565537637359882246?s=20&t=c5bx0V0qa-PwyuwqAf63_A
https://twitter.com/wusports/status/1565757095055613954?s=20&t=c5bx0V0qa-PwyuwqAf63_A
https://twitter.com/UCMMULES/status/1565543822972653575?s=20&t=c5bx0V0qa-PwyuwqAf63_A
https://twitter.com/UNK_Athletics/status/1565554136975818758?s=20&t=c5bx0V0qa-PwyuwqAf63_A
https://twitter.com/ucoathletics/status/1565478802347773952?s=20&t=c5bx0V0qa-PwyuwqAf63_A
https://www.newspressnow.com/sports/griffons-buck-the-bronchos/article_abc6d440-2a73-11ed-8e6b-83a8508927c2.html
https://twitter.com/GorillasFB/status/1565568084324261888?s=20&t=c5bx0V0qa-PwyuwqAf63_A
https://twitter.com/MOSOFootball/status/1565509191300780032?s=20&t=c5bx0V0qa-PwyuwqAf63_A
https://twitter.com/RiverHawkSports/status/1565549097238630400?s=20&t=c5bx0V0qa-PwyuwqAf63_A
https://twitter.com/FHSUFootball/status/1565535066591137792?s=20&t=c5bx0V0qa-PwyuwqAf63_A