2021 MIAA Playoffs Round One Preview
November 17th, 2021 7:00pm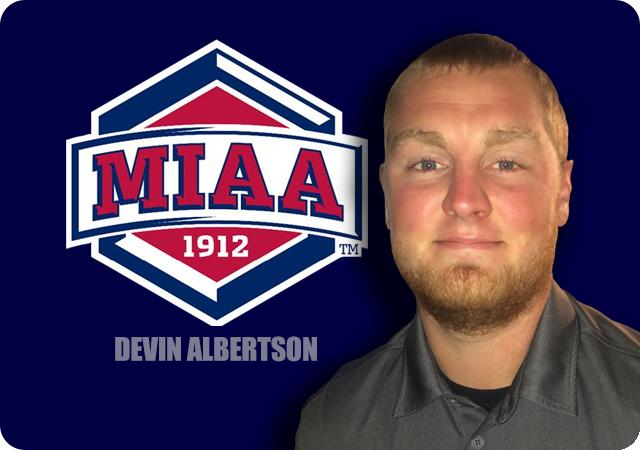 Congratulations to Northwest Missouri, Nebraska Kearney and Washburn on making the Division II Playoffs. Pittsburg State will probably get a bowl game against one of the GAC schools that missed the playoffs. Emporia State got a bowl invite to play Southeastern Oklahoma in the Live United Bowl on December 4th. I will look at that game in a future column. Plenty of postseason action for the MIAA. Here is the Division II Playoff Bracket: Make sure you join our bracket challenge here.
I will get to the playoff matchups in a bit, but first let's recap the last week of the regular season.
Week Eleven Recap
#5 Northwest Missouri 35 Emporia State 7
The Northwest Missouri defense did what they always do, holding Emporia State to 101 total yards of offense and seven points. Imoni Donadelle took a slant route for a 79 yard touchdown, Mike Hohensee outran everyone for a 60 yard score and Al McKeller racked up 169 yards and three touchdowns. This game could have been even more lopsided if a couple fumbles had been ruled correctly. Northwest Missouri is playing their best football at the right time of the year.
#21 Nebraska Kearney 56 Northeastern State 10
Nebraska Kearney outgained Northeastern State 557 yards to 204. This was a nice tune-up game for Nebraska Kearney to get ready for their playoff run. One bright spot for Northeastern State was that freshman quarterback Ben Ward came in the game and went 6/6 passing for 89 yards and one touchdown.
#19 Washburn 38 Missouri Southern 28
The final score was not indicative of the closeness of this game. Washburn led 38-7 with nine minutes left in the third quarter. Washburn did not know their playoff fate until late Sunday afternoon. Washburn needed this win to even have a shot at the playoffs. They held on for the win and snuck their way into the playoffs. As for Missouri Southern, they made great strides in 2021 especially on defense. Atiba Bradley has Missouri Southern heading in the right direction.
Pittsburg State 34 Fort Hays 24
This is a game that everyone had their eyes on because of how it could have changed the math for the playoff resumes for Northwest Missouri, Nebraska Kearney and Washburn. Pittsburg State's freshman quarterback Chad Dodson Jr outdueled Chance Fuller, leading Pittsburg State to their eighth win of the season. Fort Hays finished the season with a disappointing 5-6 record. Fun fact from this game, both teams finished with 405 total yards of offense. Pittsburg State did it in 20 less plays and two fewer turnovers. That was the difference in the game.
Central Missouri 30 Central Oklahoma 29
Central Oklahoma missed a field goal as time expired, clinching a win for Central Missouri. Both of these teams had a rough 2021 season finishing 4-7.
Missouri Western 41 Lincoln 12
Missouri Western did what needed to be done to win and finish above .500. Lincoln ended the year winless and coach Malik Hoskins was relieved of his duties after his second season. Hard to blame Hoskins when he is playing against a stacked deck. Hoskins was dealt a roster of less than 20 scholarship players playing against fully funded programs. It is nearly impossible to win in the MIAA when there is not a commitment to field a competent football team.
Last week: 4-2
Season: 46-19 (70.8%)
MIAA Week Final Power Rankings
Northwest Missouri State --

Nebraska Kearney --

Washburn --

Pittsburg State --

Emporia State --

Missouri Western --

Fort Hays State --

Central Missouri +2

Central Oklahoma -1

Missouri Southern -1

Northeastern State --

Lincoln --
Round One Games
Central Washington (8-2) at #5 Northwest Missouri (9-1)
Saturday, 1pm
All-time: Northwest Missouri leads 1-0
Last Meeting in 2009: Northwest Missouri won 21-20
| | | |
| --- | --- | --- |
| | Central Washington | Northwest Missouri |
| Points Scored | 46.9 (2nd) | 37.5 (19th) |
| Points Allowed | 19.9 (34th) | 9.1 (2nd) |
| Pass Yards | 235.6 (56th) | 250.2 (42nd) |
| Pass Yards Allowed | 187.6 (45th) | 168.5 (22nd) |
| Rush Yards | 191.0 (32nd) | 234.0 (11th) |
| Rush Yards Allowed | 122.8 (49th) | 36.2 (1st) |
| Total Offense | 426.6 (30th) | 484.2 (8th) |
| Total Defense | 310.4 (33rd) | 204.7 (2nd) |
| Turnover Margin | +19 (1st) | -4 (125th) |
Central Washington is led by redshirt freshman Quincy Glasper. Glasper took over after the 14-9 loss to Angelo State. Glasper went 5-0 as a starter including a win over Midwestern State. In six games, Glasper was 92 of 143 for 1,280 yards, 17 touchdowns, and two interceptions as well as 53 carries for 230 yards and four touchdowns on the ground. Glasper's best receiving target is redshirt freshman Darius Morrison, 25 receptions for 588 yards and eight touchdowns. Central Washington's running attack is led by redshirt junior running back Rashaad Broddie with 124 carries for 668 yards and seven touchdowns. While Central Washington has the second best scoring offense in Division II, those numbers are inflated after playing teams like Simon Faser (twice), Lincoln (CA), Western Oregon (twice), and Western New Mexico. In the two games against quality opponents, Angelo State and Midwestern State, Central Washington averaged 19.5 points per game. I expect the Central Washington offense to struggle mightily against arguably the best defense in Division II led by the likes of Sam Roberts (MIAA Defensive Player of the Year), Zach Howard and Jackson Barnes. The young Central Washington offense might be in for a long afternoon in Maryville. On the other side of the ball, Central Washington is led by the one man wrecking crew at linebacker in Donte Hamilton. Hamilton has 71 tackles, 14 tackles for loss, 5.5 sacks, and six interceptions on the season. Zach Stecklein leads the defensive line with 41 tackles, 13 tackles for loss, 8.5 sacks and four forced fumbles. The Northwest Missouri offense has heated up since quarterback Mike Hohensee's ankle healed up. Over the last three games, Hohensee is 43 of 58 passing for 777 yards and five touchdowns to go along with 24 carries for 218 yards and three touchdowns on the ground. Al McKeller has been on a tear all season, racking up 1,337 yards rushing and 15 touchdowns. Ten of those touchdowns have come in the last three games, including four in the blowout win over Nebraska Kearney. McKeller needs 105 yards and three touchdowns to get to 5,000 career rushing yards and 60 career rushing touchdowns. Hohensee will look to connect with one of his three trusted receivers in Alec Tatum (50 receptions, 665 yards, and three touchdowns), Kaden Davis (29 receptions, 481 yards, and seven touchdowns), and Imoni Donadelle (19 receptions, 445 yards, and four touchdowns). The only thing that gives me pause in this game for Northwest Missouri is turnovers. Central Washington led the nation with a +19 turnover margin while Northwest Missouri had a -4 turnover differential. Finally, Northwest Missouri do not lose in Maryville in the playoffs. The Bearcats are 31-3 at home and the only two teams to beat Northwest Missouri in Maryville now play at the FCS level (Northern Colorado in 1997 and 2002 and North Dakota in 2000). This includes a 24 game home winning streak. The streak continues and the Bearcats roll to a victory.
Northwest Missouri 42 Central Washington 13
#17 Washburn (9-2) at #3 Harding (10-1)
Saturday, 1pm
All-time: Washburn leads 1-0
Last time: Washburn won 20-17 in 1976.
| | | |
| --- | --- | --- |
| | Washburn | Harding |
| Points Scored | 34.2 (37th) | 43.9 (5th) |
| Points Allowed | 21.2 (42nd) | 11.4 (3rd) |
| Pass Yards | 264.5 (28th) | 35.2 (163rd) |
| Pass Yards Allowed | 236.2 (119th) | 183.9 (37th) |
| Rush Yards | 160.3 (60th) | 400.6 (1st) |
| Rush Yards Allowed | 111.5 (36th) | 69.9 (4th) |
| Total Offense | 424.8 (35th) | 435.8 (25th) |
| Total Defense | 347.7 (69th) | 253.8 (9th) |
| Turnover Margin | -3 (113rd) | +8 (26th) |
After this game was announced, I liked Washburn's chances to pull off the upset in Searcy, Arkansas. However, the more I dove into the numbers and how these two teams matchup on the field, the more I like Harding to win this game. Once you get to the playoffs, I try to figure out what a team is great at. What is that team's calling card? For Harding, it is running the triple option, stopping the run, controlling the tempo of the game and suffocating the opponent. That style will win a lot of playoff and regular season games. What does Washburn hang their hat on? Washburn is good at a bunch of things but is not elite at any one thing. For Washburn to win this game, they will need to score touchdowns in the red zone, limit their turnovers and stay within striking distance for the fourth quarter. This Washburn team has a knack of winning close games and playing good, situational football. Unfortunately, Harding is too much for Washburn and gets the win.
Harding 34 Washburn 23
#21 Nebraska Kearney (9-2) at #13 Western Colorado (10-1)
Saturday, 2pm
All-time: Nebraska Kearney leads 11-6
Last time: Nebraska Kearney won 55-14 in 2011.
| | | |
| --- | --- | --- |
| | Nebraska Kearney | Western Colorado |
| Points Scored | 36.1 (25th) | 35.6 (28th) |
| Points Allowed | 23.5 (60th) | 14.8 (12th) |
| Pass Yards | 206.6 (87th) | 202.0 (92nd) |
| Pass Yards Allowed | 235.1 (117th) | 202.5 (72nd) |
| Rush Yards | 264.4 (5th) | 185.2 (35th) |
| Rush Yards Allowed | 150.4 (87th) | 84.2 (11th) |
| Total Offense | 471.0 (10th) | 387.2 (64th) |
| Total Defense | 385.5 (106th) | 286.7 (24th) |
| Turnover Margin | +4 (48th) | +3 (53rd) |
First of all, I recommend reading the RMAC Column by Jimmy Pallotto about this game
here
. Jimmy did a great job of highlighting the key players for both teams. Let's take a look at how these teams matchup with each other. Neither team relies on their passing game to move the ball, but Western Colorado looks to have the better secondary. Nebraska Kearney has one of the best running games in Division II, but Western Colorado has an excellent run defense. This will be the second best run defense Nebraska Kearney has faced in 2021 behind Northwest Missouri. Now the Western Colorado defense is not at that level but that front in a formidable foe. Nebraska Kearney has the better offense and the best player on the field (TJ Davis) but Western Colorado has the superior defense and home field advantage. Playing at 7,000 feet elevation will be a new challenge for this Nebraska Kearney team, but the Lopers were well tested in the MIAA and are used to playing in tough environments. I believe this will be a knockout, drag out fight. I will take TJ Davis, Coach Josh Lynn and company in this fight.
Nebraska Kearney 28 Western Colorado 24
BONUS CONTENT:
I went and dove into the 28 teams that made the playoffs and looked at their stats. I ranked each team by the major offensive and defensive categories: points, total yards, passing yards, rushing yards, 3rd down conversion percentage, scoring margin and turnover margin.
The Offensive Stats Chart.
The Defensive Stats Chart:
The breakdown for the teams in Super Region Three:
The breakdown for the teams in Super Region Four:
My picks for all of the first round playoff games:
Super Region One:
Notre Dame over Slippery Rock
Shepherd over Findlay
New Haven over Bentley
Super Region Two:
Lenoir-Rhyne over Bowie State
West Florida over Newberry
West Georgia over Albany State
Super Region Three:
Harding over Washburn
Northwest Missouri over Central Washington
Grand Valley State over Lindenwood
Super Region Four:
Angelo State over Minnesota Duluth
Nebraska Kearney over Western Colorado
Augustana over Bemidji State