Around the Nation - Week Nine Preview
October 27th, 2022 7:00am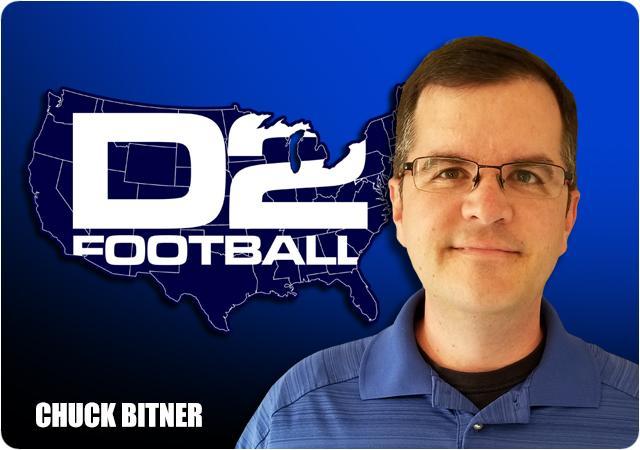 In case you missed it, the first round of the regional rankings that will soon determine the playoff field were released on Monday of this week. As a reminder, the first release only names the teams in the top 10. It does not rank them in 1-10 order. That will begin next Monday. Since we don't have a defined order yet, it is still too soon to start arguing over positions. We'll get into that next week.
For now, here is a look at the teams currently in contention for the seven playoff bids in each region. If you're new to the process, you may want to check out this column first, to get up to speed on the basics. The next round of rankings will come out late Monday afternoon and will give us our first looks at the ranked order in each region.
Regional Rankings - October 24
Week Nine
There are a lot of games on my radar this week, and I've also been spending a lot of time on regional rankings so I am going to have more of a speed-round overview this week.
East Central (6-2) at #3 Ouachita Baptist (8-0) (Thursday 8pm)
The D2 weekend kicks off early with a big clash in the GAC. Ouachita puts their unbeaten record on the line against an East Central team that has won six in a row. For East Central to get out of Arkadelphia with a win, they'll need a herculean defensive effort. Ouachita is number one in the nation in scoring offense, averaging 48.2 points per game. Only Harding was able to hold the Tigers to less than 41 points. East Central does have the second-best scoring defense in the GAC, behind Ouachita, so they have a puncher's chance in this game. But Ouachita's run game is too powerful. The Tigers are rolling up more than 350 yards per game on the ground and lead the nation by a big margin with 39 rushing TDs. ECU will be a tough out but I don't see them derailing Ouachita's perfect season.
Wheeling (6-2) at Concord (6-2) 12:00
I'll be honest, at the start of the season this was not a game that I had highlighted on the week nine schedule. But with both teams contending for the Mountain East championship and the post-season, it is one of the top games in super region one this weekend. Wheeling has not gotten enough attention for what they've done since launching the program just a few years ago. This is only the third full season of varsity football and they have already secured a winning record. They have what it takes to win this game, especially against a Concord defense that has allowed 60 and 56 points in the last two games. Despite that, I do think Concord will get back on track with their league-leading passing attack. I could see this going a couple of different ways but a high-scoring shootout seems the most likely. Watch for Concord receiver Jarod Bowie who leads the nation in total receiving yards and receiving yards per game. Should be a fun one to watch.
#12 IUP (7-0) at Gannon (6-2) 12:00
IUP has been the overwhelming favorite to win the PSAC West since defeating Slippery Rock and Cal in consecutive weeks, but they cannot afford to overlook Gannon. The Golden Knights are still in the fight at 6-2 overall and 4-1 in divisional play. This could be a tougher matchup for IUP than most might think. IUP has one of the best receiving duos around with Duane Brown and Hilton Ridley. Both players are in the national top 25 in receiving yards. Quarterback Mak Sexton has the highest efficiency rating in the PSAC. But Gannon has the top pass defense in the PSAC and the team is also very solid and balanced offensively, averaging over 400 yards per game. I don't see the upset happening, but IUP must be well prepared, or this game could be a struggle.
#25 New Haven (6-1) at Assumption (5-2) 1:00
New Haven has two games to play after this weekend, but I can't foresee either of those opponents challenging them. That leaves Assumption as the last true obstacle between the Chargers and a second straight Northeast 10 championship. I have a lot of confidence in Assumption's defense keeping this close, but not as much confidence in their offense. They have not delivered against good competition this year. Three points against Kutztown and Bentley is a bad omen and this UNH defense has been getting stronger as the season has gone on. The Chargers have not allowed more than 14 offensive points in four straight games. Assumption is well coached and will keep this close with good defense but in the end, I think it's a good road win for New Haven. The Chargers are coming off a bye week and a game against an overmatched Post. They will be well rested and as healthy as you can be for late October.
Tuskegee (6-2) at Kentucky State (4-4) 1:00
The conversation in the SIAC this season has centered around the emergence of Benedict and their challenge to defending champs Albany State. Benedict settled that argument last week and will now look to the SIAC championship game in two weeks. But don't gift the trophy to Benedict just yet. They still have to play someone in that title game and it may just be a red-hot Tuskegee team that has overcome an 0-2 start to win six in a row. They've still got a couple of big games left including homecoming next week against Miles, but they can win the West division with a road victory at Kentucky State on Saturday. The Thorobreds have their own streak going. They've turned their season around and evened their record at 4-4 following an 0-4 start. I have some concerns about Tuskegee's defense if they make the SIAC championship, but I think they'll be okay against Kentucky State as long as they don't give up chunk plays on the ground. I like 'Skegee for the win here, which could set up a really intriguing matchup in the conference championship game on November 12.
Wingate (7-1) at Lenoir-Rhyne (6-2) 1:00
Bears v. Bulldogs has been one of the top games in super region two for the past several years. That certainly isn't changing this year with both teams currently in the top 10 of the SR2 rankings. LR must win to stay alive for the post season and remain in the fight for the SAC Piedmont division. The loss to Newberry a week ago puts them a game behind the Wolves and Wingate who are tied for the division lead at 5-1 in SAC play, 3-0 in the division. Although this has been a great series in recent years, it's been one sided. Wingate has not beaten the Bears since their SAC championship season of 2017. That was the last of three in a row over LR. Since, the Bears have won five straight, including last year's dominant 31-6 win at Wingate. I think the time is right for Wingate to end that streak. The Bulldogs have the top performing defense in D2. They lead the nation in points allowed per game (8.5), total yards allowed per game (187) and tackles for loss per game (10.1). The LR offense has progressed steadily all year but struggled against the only good defenses they've faced, Ferris State and Newberry. LR needs to establish the run to win. They had only 103 against Newberry and 16 against Ferris, and both were at home. Wingate should be able to stop the run and put pressure on the Bears in passing situations.
#24 Davenport at #20 Saginaw Valley 1:00
2022 has been a magical ride for the Davenport Panthers. They stand at 7-0 overall, 6-0 against D2 opponents and they remain tied with Grand Valley State for first place in the GLIAC standings. We've been expecting the Panthers to get a dose of reality, closing the season with Saginaw Valley, Ferris State and Grand Valley. It does seem likely Davenport will lose all three, but I'm not going to count them out. Saginaw did not have a good day at Wayne State last week, posting under 300 total yards for the third time in four weeks. That's a bad omen going up against a Davenport defense that gives up 287 per game. The Cardinals also have to contend with the best passing offense in the GLIAC, led by Jason Whittaker who has thrown 21 touchdowns to 5 interceptions. I like Saginaw for the win but I believe this is a tougher match up for them than most people think. A Davenport win would not surprise me and if they can get it, you might be looking at a playoff team given the strength of schedule boost they'll get in the final three games.
Chowan (5-3) at #11 Virginia Union (8-0) 1:00
Virginia Union's 8-0 record outshines Chowan's 5-3, but both are 3-0 in the CIAA North division with two games left. The rest of the division is 1-2 or 0-3. That means the winner of this game can finish with no worse than a tie at the top and the head-to-head win this week would break the tie. That makes this contest a winner-take-all for the north division. I don't like this spot for Virginia Union. Chowan is a very dangerous opponent for them. All the attention, pressure and expectations are on Virginia Union. Despite that, I do think Virginia Union is the better team. It's going to take a good passing offense to beat the Panthers because you can't run the ball on them. In that past, Chowan would have been perfect for that assignment but I don't think they have quite enough explosiveness for the Panthers' defense. I like Virginia Union to keep rolling.
Augustana (6-2) at Winona State (6-2) 2:00
Augustana and Winona State both bring 6-2 records into this game but it's the Warriors that lead the NSIC South division with a 3-0 record, thanks their upset of previously unbeaten Sioux Falls last week. Augustana is entering this game following a tough loss to Minnesota State at home. It was a humbling defeat that has Augie competing for their playoff lives this weekend. Winona is the hot team but I think Augie has a rebound in them. The biggest challenge they will have is establishing the run. They were not able to do it last week and they're still without offensive leader Jarod Epperson at running back. Bad news for them as they go up against a defense that shut down Sioux Falls once their top rushing threat was knocked out of the game. Team health and the hot hand point toward a Winona State win, but Augustana is a well coached team and I think they'll come back from a bad performance last week and keep their season alive with a win.
#10 Colorado Mines (6-2) at Western Colorado (5-3) 3:00
Both teams in this game started 0-2 but since the start of week three, they are a combined 11-1. They sit a game apart in the league standings with Mines at 6-0 and Western at 5-1. Two weeks remain after this Saturday, but its very likely this game will determine the RMAC championship. If Mines wins, they'll have a two game lead on the field and could win the conference outright next week. A Mountaineer win would force a tie and potentially a co-champs scenario at the end of the season. Western is a good football team but I think Mines is the class of the RMAC this year. They lead the league in all team statistical categories except passing offense and passing defense (they're second in both). Western's defense can give them a chance but I don't see enough of an offensive threat to make me think they can upset the Orediggers.
Game of the Week
#14 Northwest Missouri State (6-2) at #19 Nebraska-Kearney (6-2) 3:00
With both teams sitting at 6-2, this is an elimination game. The winner will get a little bump in the strength of schedule and stay alive for the post season. The loser will drop to 6-3 and most likely out of contention for playoff a spot. Northwest has been underwhelming offensively at times but the defense is still elite, and also a bad match up for Nebraska-Kearney. The Lopers have the top rushing offense in the MIAA, led by the best overall athlete in the league, TJ Davis. But I don't think their scheme matches up with the Northwest defense. The Bearcats are number one in the nation in rushing yards allowed. I do think the UNK defense can keep this low scoring enough to have a chance, but I don't see the offense being able to do enough against that rush D of Northwest.
Off the Grid Game of the Week
St. Anselm (5-2) at Pace (5-3) 12:00
Each week I try to shine a spotlight on a game that may not impact rankings or playoff positions, but has some element of intrigue worthy of our attention. Why Pace and St. Anselm? Look at the records. 5-2 v. 5-3. If you haven't been around D2 for more than a couple of years, that doesn't seem noteworthy. But go back to earlier 2000s through just the last couple of years, and this probably would have been a winless v. winless matchup. For a period of several years, this may have been the only game on the calendar either team had a good shot to win. Its a testament to how far both programs have come in recent years that we're looking at teams still alive for playoff spots. And this should be a really good game. The teams are evenly matched and have very similar resumes. I'm going with Pace for the win. They have a much better running game and protect the ball better in the passing game.
Remember we will have the second round of regional rankings released on Monday. This will also give us the first look at the 1-10 rankings in each region. If you want to see our projections for all four super regions, join us for Inside D2 Football on Sunday night at 8pm.
Questions, suggestions, comments, complaints? Email me at [email protected] and follow me on Twitter @D2Chuck.