SAC Week Seven Preview
October 14th, 2021 2:00pm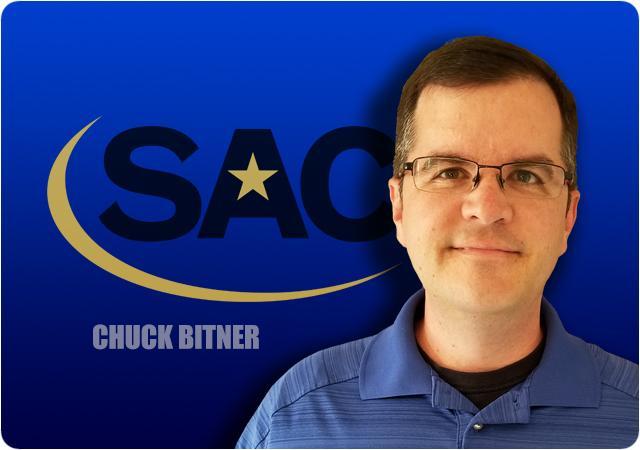 The Division II Football season is officially past the halfway point. Six weeks are down, five remain between now and the end of the regular season. This means that regional rankings will soon start to dominate the conversation in the D2 landscape as teams battle for one of the seven spots in the regional playoff brackets.
The first round of regional rankings will be released on Monday, October 25 (following week eight of the season). If you are new to Division II or if you have questions about what makes up the rankings criteria and, ultimately, the selection process, you're not alone. It is different from what you may be tempted to compare to, such as the NCAA basketball tournament. It takes some time and serious studying to confidently understand it. The team at D2Football is here to help. Be sure to tune into our Sunday night shows over the next couple of weeks. We will be spending time explaining and discussing how the selection committee is assembled, what is and is not part of the rankings criteria, and how the criteria is applied. Collectively, we have a lot of experience and historical perspective to share to help make sense of what is happening. You can watch the live stream of the show on Sunday evenings at 8:00, eastern on our YouTube channel. On the live stream, you can participate by asking questions in the chat.
The half-way pole is a good time to pull up and look at each team's current state and their prospects for the rest of the season. But before doing that, let's take a look at some of the mid-season stat leaders in the conference.
SAC Statistical leaders through 10/09/21
| | | | |
| --- | --- | --- | --- |
| Category | Stat | Player | Team |
| Passing Yards Per Game | 255 | Jimmy Urzua | Mars Hill |
| Passing Touchdowns (tie) | 14 | Jimmy Urzua | Mars Hill |
| Passing Touchdowns (tie) | 14 | Lendon Redwine | UVA Wise |
| Completion Percentage | 66.7 | Shaw Crocker | Wingate |
| QB Efficiency | 159.8 | Shaw Crocker | Wingate |
| Rushing yards per game | 153.8 | Dwayne McGee | Lenoir-Rhyne |
| Rushing TDs | 8 | Dwayne McGee | Lenoir-Rhyne |
| Yards per carry (min. 30 carries) | 6.9 | Jerko'ya Patton | Limestone |
| Longest rush | 82 | Courtney Jackson | Tusculum |
| Receiving yards per game | 100.5 | CJ Thompson | Mars Hill |
| Total receptions | 34 | CJ Thompson | Mars Hill |
| Receptions per game | 6.2 | Deondre Lester | Lenoir-Rhyne |
| Yards per reception | 17.7 | CJ Thompson | Mars Hill |
| Longest reception | 85 | CJ Thompson | Mars Hill |
| All purpose yards per game | 159.6 | Dwayne McGee | Lenoir-Rhyne |
| Total return yards | 422 | Leonte Dudley | Carson-Newman |
| Field goals made | 10 | McLean Robertson | Wingate |
| Total kicking points | 42 | McLean Robertson | Wingate |
| Longest field goal | 49 | McLean Robertson | Wingate |
| PAT made | 20 | Chase Albaugh | Lenoir-Rhyne |
| Yards per punt | 49.5 | Clayton Crile | Catawba |
| Longest punt | 81 | Michael Harrah | Carson-Newman |
| Total tackles | 61 | Landon Honeycutt | Mars Hill |
| Solo tackles | 29 | Rondrow Peebles | Carson-Newman |
| Tackles for loss | 8 | Joel Burgess | UVA Wise |
| Sacks (tie) | 5 | Joel Burgess | UVA Wise |
| Sacks (tie) | 5 | Nelson Louis | Tusculum |
| Interceptions | 5 | Markel Dailey | UVA Wise |
Since we're looking at statistics, I want to recognize Lenoir-Rhyne place kicker Chase Albaugh for breaking the Division II record for most consecutive PATs made. The new record that he established last week stands at 130 and the streak remains active. Albaugh earned the SAC's special teams player of the week honors - Its not every week a player sets a new Division II record. On the other, the special teams player that unquestionably had the biggest impact last week was Carson-Newman return specialist Dequan Dudley who returned two kickoffs for touchdowns. Both plays started with Dudley in his own end zone, officialy making them 100 yard returns. For this special accomplishment, Dudley was named D2Football.com special teams player of the week.
Here is the midseason report for each team.
1. Wingate (5-0, 3-0)
Synopsis: Five up and five down. Can't do any better than that. Wingate's 5-0 start has the Bulldogs in the Top 10 of the D2Football.com poll. And this is hardly new territory for the program. The Bulldogs opened the 2019 season with an eight game winning streak, which was one shy of the nine game streak that kicked off the 2017 campaign. This year's Bulldog team is possibly as well-rounded as any they have had. We know Wingate as a rushing team, but in each of their five games they have thrown for more yards than they have rushed for. The running game is still working, but the passing attack has been more efficient than it has been in years past. Quarterback Shaw Crocker is having an outstanding senior season, leading the SAC in completion percentage (66.7) and QB efficiency (159.8).
What's ahead: at Barton, at UVA Wise, Lenoir-Rhyne, at Newberry, Mars Hill
Outlook: Its been hard work to get to 5-0 and it will be even harder to go 5-0 in the second half of year. Barton is punching above its weight, Wise has shown what they can do when then they put a complete game together, the LR rivalry is always tough and then they close with two teams currently hot on their heels in the standings. Wingate is the favorite to win the SAC, but they still have a lot of obstacles to get through.
2. Mars Hill (4-2, 2-1)
Synopsis: I thought this year's Mars Hill team had a chance to be pretty good because they were going to have the best defense they've had in a long time. So far that has proven to be true. The defense has been exceptional against the rush, which was directly responsible for the last two wins over Newberry and Barton. I had some questions about the offense at the start of the season and some inconsistencies probably cost them the Lenoir-Rhyne game. But they are scoring 33.7 points per game, which is less then one point behind first place, and have scored more total touchdowns (28) than any team in the SAC. They're tops in passing offense (281 yards per game) and passing touchdowns (16). Where they struggle is third down. 30% conversion rate is the lowest in the conference and that could be a big problem when they play teams like Catawba and Wingate that control the clock and minimize opponent possessions.
What's ahead: at Limestone, Catawba, at Carson-Newman, Tusculum, at Wingate
Outlook: Mars Hill is in a really good position. Their conference loss is to Lenoir-Rhyne but the Lions still have a one game lead on them, thus, they control their destiny in the conference race. I think the defense is well positioned to control the next three games and set them up for a championship push in the last two weeks.
3. Newberry (4-2, 3-1)
Synopsis: A couple of feet. That is all that is separating Newberry from a first place tie with Wingate in the conference standings. A field goal attempt in the first OT period at Mars Hill sailed just wide of the right upright, extending the game to a second OT period where the Wolves would eventually lose the game. Had that kick been true, it would have been a walk-off game winner and Newberry would be unbeaten in conference play. Unfortunately that was just one of many plays that doomed their efforts that day. The good news is that they rebounded nicely and got right back on track with a dominant win at UVA Wise. That, combined with their road win at Tusculum and impressive home win over Lenoir-Rhyne, has the Wolves right in the thick of the championship race. This team is unquestionably at its best when the running game is working. In four wins, the Wolves average 205 rushing yards per game and 4.7 yards per carry. In two losses, those numbers drop to 103 per game and 3.3 per carry.
What's ahead: Catawba, Carson-Newman, at Erskine, Wingate, at Limestone
Outlook: I really like their chances of winning the next three games to set up a huge meeting with Wingate in early November. They have to take them one at time, but the Wolves should be able to control the line of scrimmage against Catawba, Carson-Newman and Erskine.
4. Lenoir-Rhyne (3-2, 2-2)
Synopsis: It's hard to be elite every year and that has been a tough reality for Lenoir-Rhyne fans this season. Lenoir-Rhyne is good. By the end of the season they might be very good. They're just not elite right now. The only real disappointment to the season is the self-harm they did to themselves at UVA-Wise. As I've said before, the Newberry loss was a day that the opponent had a good game plan and they executed extremely well. That happens. Wise also had a good game plan and made some big plays, but that game could have turned out differently if the Bears had minimized some mistakes. The offense is good, but has not been as explosive as we've seen in recent years. Dareke Young's absence last week definitely hurt.
What's ahead: at Carson-Newman, Limestone, at Wingate, at Barton, Catawba
Outlook: The season is not over yet. I don't see a path to the conference championship, but if they win- out and finish 8-2 they can still be a playoff team. If they continue to improve and peak at the right time, there is still an opportunity to be heard from.
5. UVA Wise (3-3, 2-2)
Synopsis: Coming out of the three week homestand against Carson-Newman, Lenoir-Rhyne and Newberry with a 2-1 record is a good accomplishment. I think if you could have told most Cavs fans before the season that their team would win two of those games, they would have happily taken that. And with good reason. It's a big step forward for the program to prove that they can compete in the South Atlantic Conference. On the flip side, Wise has two perplexing losses to go along with their big wins. They were blown out at Mars Hill in week three and were never really in contention in the loss to Newberry. The common theme was that in the two losses, they were outperformed at the line of scrimmage on both sides of the ball. In the two wins, it was the opposite. The Cavs' passing offense has been good but they are last in the SAC rushing yards per game (103.5) and that has been a significant factor in their losses.
What's ahead: at Tusculum, Wingate, at Limestone, at Catawba, Barton
Outlook: At 2-2 against Division II competition, they're not yet out of the playoff race, but they'd have to win all the remaining games and I don't see that happening. But a more immediate goal of a winning season is doable. They have to win three out of five to finish with a winning record overall and in-conference. The only game in which they will be a definite underdog is Wingate. They can play with the other four teams on the schedule. A winning season would be a big accomplishment for year two in the SAC.
6. Tusculum (2-4, 1-3)
Synopsis: The old saying says you are what your record says you. That's true, but not always completely fair. In Tusculum's case its worth a closer look. Their four losses: Double OT loss to 5-1 Chowan, five point margin to 4-2 Newberry after a late fourth quarter rally, and losses at 5-0 Wingate and at 3-2 LR that both came down to the final play. All forgivable, but also getting in the way of winning season. The Pioneer's defense is good in a several ways – top pass defense in the SAC and among the best in sacks and interceptions – but what matters most is points allowed and at 31.0 per game, only Carson-Newman and Limestone allow more.
What's ahead: UVA-Wise, Barton, at Catawba, at Mars Hill, Carson-Newman
Outlook: Tusculum needs to win four of the last five to have a winning season. It's a tall order but I think its possible. The second half of the schedule is not as loaded as the first and three games are at home. The game with UVA Wise this weekend is a must win to end the three game losing streak, then they can focus on tightening up the run defense for Barton and Catawba.
7. Catawba (4-0, 1-0)
Synopsis: If you're doubting Catawba, I get it. It's very easy to dismiss this Catawba team. Excluding the very competitive Barton team, the schedule has been soft. Erskine is a start-up and Carson-Newman and Winston-Salem State have all kinds of problems. On top of that, every game has been at home. But 4-0 is 4-0. They've taken care of their business and let's not forget, this program had lost 11 straight games and probably would have lost some of these games in 2019. I don't yet know how good they can be, but they are heading in the right direction. The defense is playing better than I expected and they've got some youngsters on offense that are giving fans reasons to be excited about the future. Jyrea Martin and Daniel Parker had been good in the running game, complimenting QB Ken Avent, and Kujuan Pryon has added a lot to the passing game.
What's ahead: at Newberry, at Mars Hill, Tusculum, UVA-Wise, at Lenoir-Rhyne
Outlook: Catawba deserves to be complimented for what they've done so far, but now we're going to find out exactly how far they've come. The second half of the season is going to be much harder. They have momentum and confidence on their side and in college sports, those can be worth a lot but they will be tested in ways they haven't been so far.
8. Limestone (0-4, 0-2)
Synopsis: It's been a tough first half of the season for Limestone. It is very unfortunate that the two teams they could have matched up with favorably had to cancel. I was confident they would have beaten St. Augustine's to at least have one win on the board and could have tangled with Catawba. Of the games they have played, the only disappointment was the lopsided loss to Barton. They battled Wingate, nearly pulled off an upset at Tusculum and could have hung with North Greenville if they'd been able to finish in the red zone. They really need to keep working on the running game. Jerko'ya Patton had a big game last week and it was why they were able to be competitive. Dustin Noller is still a work in progress at quarterback but I think he has a lot of upside. I thought they could be better on defense this year, but they're still struggling. They have to get off the field on third downs. Opponents are converting third downs into first downs at a rate of 53%.
What's ahead: Mars Hill, at Lenoir-Rhyne, UVA Wise, at Carson-Newman, Newberry
Outlook: Any win they can get this year will be considered an upset but that doesn't mean its impossible. They had a good game plan for Wingate and their execution was not bad. Every team left on the schedule has had some ups and downs. Limestone beat Wise in the spring and lost to Mars Hill in OT, so they can go into those games feeling like they can compete.
9. Carson-Newman (0-5, 0-3)
Synopsis: To put it bluntly, it is stunning that we are passed the mid-point of the season and Carson-Newman does not yet have a win on the board. Granted, they started the year with two opponents currently ranked in the Top 15, but they've also played teams that were 1-10, 2-9 and nonexistent in the last full season played (2019). It is perhaps even more stunning that the Eagles are statistically one of the worst offensive teams in Division II. Just within the SAC, Carson-Newman is last in all four team categories - scoring, total offense, rushing offense and passing offense. Obviously, they are still working towards establishing their identity and they are very young in the offensive line. But it's a pretty bad sign that even with three special teams TDs last week at Catawba they were not able to come out of it with a win.
What's ahead: Lenoir-Rhyne, at Newberry, Mars Hill, Limestone, at Tusculum
Outlook: Every preseason goal they had is long gone. The best thing the coaches can do now is just take all the pressure away. Forget about championships, forget about post season, forget about rivalries, forget about stats and rankings, forget about the record. Just focus on doing everything they can to be as prepared as possible for the next game. There is still time to salvage some pride and win a few games this fall but Looking at who they have left, they will be an underdog in four of those games and any wins will have to be very hard earned.
Week Seven Schedule
Game capsules will be a little shorter this week. I used a lot of my available research and writing time on the mid season reports this week.
Lenoir-Rhyne (3-2, 2-2) at Carson-Newman (0-5, 0-3) 1:00
At the start of the season this was a game I had circled as one that would potentially determine the SAC championship. Not to be. LR is likely out of the championship race with two losses and Carson-Newman's only role in the title chase could be that of spoiler, if they're able to knock of a contender. Being back in Mossy Creek for the first time since week three could help, but I'm not seeing enough progress to make me think the Eagles can win this game. They had only 10 first downs and 229 yards last week at Catawba. LR's defense hasn't been quite as elite as I expected but they are physical at the line of scrimmage and should dominate Carson-Newman's young offensive line.
What to watch for: Lenoir-Rhyne averages just over 200 rushing yards per game and Carson-Newman's defense allows just under 200 per game. If the Bears get to 200 I don't see any way Carson-Newman pulls of an upset.
The pick: Lenoir-Rhyne
UVA Wise (3-3, 2-2) at Tusculum (2-4, 1-3) 1:30
UVA Wise has been at home for three weeks and now make their first road trip since the disaster at Mars Hill. Tusculum is on a three game losing streak, but they've played some really good football during that time, particularly the two road games at Wingate and Lenoir-Rhyne. Tusculum's run defense needs to elevate a little bit and take the rush away from UVA Wise. The Cavs have the least product rushing attack in the conference and if the Pioneers can force them to be one dimensional, that works in favor of their very good pass defense.
What to watch for: Wise (255.8) and Tusculum (244.7) are second and third in the conference in passing yards per game. If they both hit their averages, it will be a very entertaining game, and possibly look a lot like last week's thrilling Lenoir-Rhyne v. Tusculum game.
The pick: Tusculum
Mars Hill (4-2, 2-1) at Limestone (0-4, 0-2) 4:00
Limestone got a really nice lift from the rushing of Jerko'ya Patton last week but if they're going to pick up a win this week, it will have to come from the passing game. Mars Hill has been tough to run against all year and even Barton set up a game plan to throw more frequently than they are comfortable with. The Saints will need a lot from QB Dustin Noller and they will have to score a lot more than the 15.3 points per game they are averaging. Their defense is going to have a tough time with the SAC's leading passer Jimmy Urzua and leading receiver CJ Thompson.
What to watch for: Mars Hill really likes to establish the run, but in this game they really would be best served playing to their strengths and Limestone's weaknesses with a pass-heavy game plan.
The pick: Mars Hill
Catawba (4-0, 1-0) at Newberry (4-2, 3-1) 5:00
Other than the COVID issues that resulted in two cancellations, Catawba has had a wonderful season to date. But as discussed above, they are going to start facing some tougher competition and it begins this week with a Newberry team that is back on track and playing for a championship. Catawba leads the SAC with 239 rushing yards per game and QB Ken Avent is a big part of that. Newberry will be better than any defense they have faced so far and they found out in the spring that Avent's improvisational skills are deadly. They should have a good defensive game plan to account for him so Catawba will need some tough rushing yards from Jyrea Martin and Daniel Parker, like they had last week when both eclipsed 100 yards in the Indians' clock-killing offensive performance.
What to watch for: The Indians' passing game is still limited mostly to screens and routes in front of the sticks. Newberry defends those routes pretty well and tend to be more susceptible with the vertical routes. Catawba will have to get something out of the passing offense to win this game but its going to be tough.
The pick: Newberry
#8 Wingate (5-0, 3-0) at Barton (3-3) 6:00
Barton has been very impressive since the season opening loss to Newberry but I had been looking at this as a game that would be a little bit of a reality check. Barton has had an exceptional rushing attack, led by Jordan Terrell's Division II leading 178 yards per game. But Wingate is pretty tough against the run and has some speed that could prevent Terrell from getting to the next level. So I didn't think it was a favorable matchup for Barton at all. But that was before they discovered a whole new offensive philosophy last week, going to the air 38 times (by far the most this season) and accumulating an impressive 316 yards. That is something we had not previously seen from Barton. I think Wingate's offensive balance will be hard for Barton to keep pace with but if they can establish their own balance, it could be a tight game.
What to watch for: If Barton can make Wingate respect the pass, it changes the outlook for this game. If they can compliment the rush with a credible passing attack, they could threaten in this game because Wingate has allowed some passing yards to teams like Fayetteville State and Tusculum.
The pick: Wingate
Questions, suggestions, comments, complaints? Email me at [email protected] and follow me on Twitter @D2Chuck.