SIAC Week One Preview
September 1st, 2022 11:00am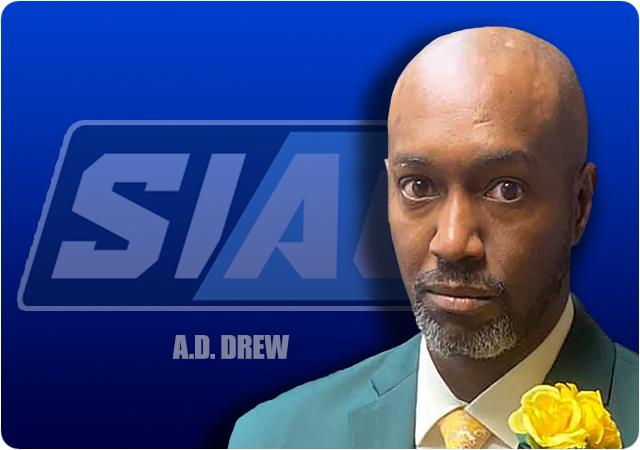 SIAC WEEK ONE PREVIEW
The SIAC kicks off an exciting season off with all 13 of its teams in action for week one, including five teams appearing in four Classics. One of those Classics will feature a pair of conference foes in the Red Tails Classic: Fort Valley vs. Tuskegee. One conference match will take place as Clark-Atlanta travels to Edward Waters. Two SIAC teams will be involved in match-ups against FCS-HBCUs: Miles at Alabama State and Lane at Arkansas Pine-Bluff. The CIAA and SIAC will cross-over as Elizabeth City travels to Benedict and Winston-Salem plays Central State in a neutral site Classic. Savannah State will step outside the NCAA to host NAIA power Southeastern (FL). Finally, four Super Region 2 contests will play out as the Gulf South's Delta State visits Kentucky State, West Alabama takes on Morehouse, and Mississippi College battles Albany State, while Allen goes to the South Atlantic's Newberry.
(All Times Eastern)
Delta State at Kentucky State
Alumni Stadium, Frankfort, KY
Saturday, 1PM
Radio: https://statesmensportsnetwork.com/
Kentucky State, who had the second best rushing offense in NCAA DII last season, is under new leadership with Paul Hamilton being recently promoted to Interim Head Coach after Interim Athletic Director Ramon Johnson led the team this summer. Kendon Walker gained 539 yards rushing last season, and is KSU top returning rusher. The defense is led by SIAC preseason 2nd team linebacker, Darrell Doris, Jr., who averaged 6.4 tackles per game. They take on a Delta State team who finished 5-6 (3-4 GSC) last season.
Clark-Atlanta at Edward Waters
Nathaniel Glover Community Field and Stadium, Jacksonville, FL
Saturday, 4pm
TV: https://www.youtube.com/watch?v=H1pfKJQDeHM
Radio: https://radio.securenetsystems.net/v5/index.cfm?stationCallSign=WJXL
Edward Waters comes in after a Week 0 loss, 39-34, to in-state HBCU rival Florida Memorial of the NAIA. In the game, EWU trailed 26-0 at halftime, before finding their offense in the second half. In the game, EWU rushed for 279 yards, led by De'Shaun Hugee with 161 yards. The Tiger defense forced five turnovers (3 interceptions, 2 fumbles) in the game. Widmeyer Garcon led the Tiger defense with 11 tackles. Garon also had a sack, a forced fumble, and 2 Tackles for loss (19 yards).
Clark-Atlanta is now led by Head Coach, Willie Slater, who comes to Atlanta from Tuskegee University. Questions may surround what the Panthers will look like on offense, but the CAU defense will be led by DB Charles Crawford ,who tallied 57 tackles, 5 tackles for loss, and 2 interceptions in 2021, and also be led by LB Rodney Lewis, who tied Crawford for the team lead 2021 in tackles, while adding 12 tackles for loss and 3 sacks.
Southeastern (FL) at Savannah State
Ted Wright Stadium, Savannah, GA
Saturday, 6pm
TV: https://www.flofootball.com/teams/6972716-savannah-state-football?view=live-and-upcoming&utm_campaign=savstate&utm_medium=&utm_source=&utm_content=website&utm_term=fb&rtid=&coverage_id=
Aaron Kelton took over Savannah State in April of this year. Savannah had the SIAC's number 2 total defense in 2021. DL Makenly Newbill had 28 tackles and 2 tackles for loss in 2021. Offensively, the Tigers were the SIAC's second best rushing team at 219 yards per game. OL Kyle Frazier leads the offensive line that opens the holes for RB Shamarcus Poole. Poole averaged 5.9 yards per carry in the Tigers pistol-option offense. Southeastern received votes in the NAIA preseason polls.
Allen at Newberry
Setzler Field, Newberry, SC
Saturday, 6pm
TV: FloSports
Teddy Keaton leads Allen in year two of their transition to NCAA DII from NAIA. Offensively, QB David Wright, III threw for 2259 yards. On defense, Gary Bourarage had 50 tackles, 6.5 tackles for loss, and 1 sack. The Yellow Jackets will take on #19 Newberry in this Super Region 2 match-up.
West Alabama at Morehouse
B.T. Harvey Stadium, Atlanta, GA
Saturday, 6pm
Radio: https://www.grantellbroadcasting.com/
Morehouse is lead by the most tenured head coach in the SIAC in Rich Freeman. The Maroon Tigers in 2021 were lead by their defense and special teams. LB Daylon Land totaled 61 tackles and added 8.5 tackles for loss last season. Armani Maddox collected five interceptions for the Maroon Tigers in 2021. On special teams, Marqueiz Pride averaged 19.8 yards on punt returns and 13.7 yards on kickoff returns. Morehouse will take on UWA, 6-4 (4-3 GSC) last season.
Miles at Alabama State (Labor Day Classic)
ASU Stadium, Montgomery, AL
Saturday, 7pm
TV: ESPN+
Radio: https://www.wvasfm.org/
Sam Shade begins his first season in Birmingham with the target of being the defending SIAC West Champions. The Golden Bears defense is led by DL Roosevelt Thompson and his 28 tackles and 4.5 tackles for loss, along with DB Mitchell Smiley with 2 interceptions on the season. WR Marcus Lodge will give Miles an identity on offense with 15.9 yards per catch in 2021. The Golden Bears will take on a FCS-HBCU Alabama State team that defeated FCS-HBCU Howard, 23-13 in last week's Celebration Bowl.
Lane at Arkansas Pine-Bluff
Simmons Bank Field, Pine Bluff, AR
Saturday, 7pm
TV: https://uapblionsroar.com/watch/?Live=314&type=Live
Lane has SIAC preseason player of the year DL Andrew Farmer. Farmer accumulated 54 tackles, 17.5 tackles for loss, and 10 sacks in 2021. LB Mackenzie Howard added 70 tackles and DB Jeffery Johnson led the Dragons with 74 tackles. Lane is loaded on offense with signal caller QB Michael Huntley, the duo of Anthony Evelyn and O'Joshua Bunton at wide receiver, and Ike Brown at running back. The Dragons take on the Golden Bears who went 2-9 (1-7 SWAC).
Mississippi College at Albany State
Albany State Stadium, Albany, GA
Saturday, 7pm
TV: https://team1sports.com/asugoldenrams/
Radio: https://www.praise1055.com/
The defending SIAC Champion Albany State open the defense of their title with a regional matchup against Mississippi College of the GSC. The Golden Rams won last year in Clinton, MS 24-0. Albany State has SIAC Offensive Player of the Year QB Dionte Bonneau. TE Tyree Taylor, WR Joe'Vontae Shorter, and RB Kamran Ward are the key skill players on offense. The offensive line is led by KaTray Pringle, Jajuan Gordon, and Josh Simon. On the defensive side of the ball, Malik Barnes, Stephan Pierre, Charles Crawford, Anthony Harvey, Josh Hill, James Hawkins, and Brandarious Rawlings return to a unit that boasted eight defensive shutouts.
Elizabeth City State at Benedict (Carolina Classic)
Columbia, SC
Saturday, 7pm
TV: HBCU League Pass +
Quarterback Eric Phoenix threw for 1891 yards and 12 touchdowns in 2021. Loobert Denelus totaled 40 tackles last season. The Tigers host HBCU Elizabeth City of the CIAA.
Winston-Salem State vs. Central State (Black College Hall of Fame Classic)
Tom Benson Hall of Fame Stadium, Canton, OH
Sunday, 4pm
TV: HBCUGO
Radio: https://wsncradio.org/
Kevin Porter now leads a Central State team that has not seen recent success. The only two preseason All-SIAC selections were on the second team in OL Genesis Hartley and P Jose Chaires. The Maurauders battle Winston-Salem State 3-6 (3-4) of the CIAA.
Fort Valley vs. Tuskegee (Red Tails Classic)
Cramton Bowl, Montgomery, AL
Sunday, 7pm
TV: ESPNU
Fort Valley defeated Tuskegee in the inagural Red Tails Classic last season by a score of 30-0. Both teams will come into the 2022 classic with new head coaches: Reginal Ruffin at Tuskegee and Shawn Gibbs at Fort Valley. Emanuel Wilson of FVSU is one of the top rushers in the conference. The next victory for Tuskegee will be the 700th for the school. Tuskegee is the winningest HBCU in history.
About A.D. Drew
In addition to covering the SIAC for d2football.com, Drew is a member of the Black College Sports Network, co-host of the BCSN SportsWrap podcast, a producer of Dr. Cavil's Inside the HBCU Sports Lab with Michael Washington and Charles Bishop, and a producer of Thee Pregame Show with Bishop and Neely. Drew is also an executive board member of the HBCU-Pro Sports Media Association and the Black College World Series.