Week Ten National Roundup
November 5th, 2023 10:00am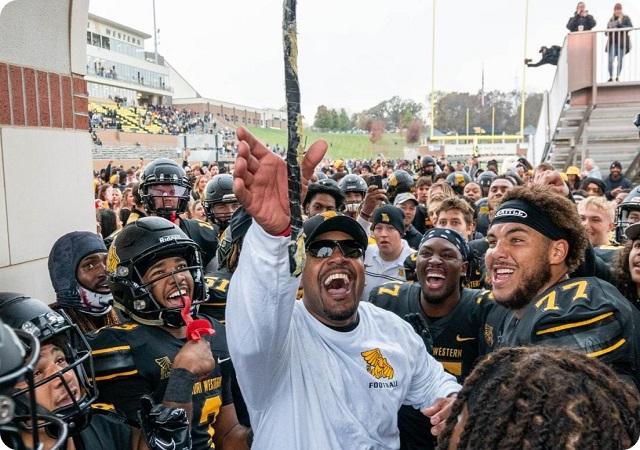 News and notes from week ten of Division II football.
By Chuck Bitner, national columnist
Pictured: Missouri Western rings the victory bell after beating previously undefeated Pittsburg State, 31-30
What a day. Week ten was full of results that will shake up the national top 25 polls and, more importantly, the regional rankings that will make up the D2 championship playoff field by next Sunday. As we approach the final week of the season, this week's roundup will focus on the results impacting regional rankings. As we continue to get deeper into the playoff race, if you need reminders about how the playoff system works, read the D2 Football Playoff Selection Q&A.
I'm going to breakdown some of the results from week 10 below and discuss their impact but for projections about what this week's rankings may look like, join us for Inside D2Football at 8pm, eastern on Sunday night.
Undefeated teams go down
Three undefeated teams lost for the first time on Saturday. All three of them were in super region three. No. 3 Pittsburg State lost on the road to No. 24 Missouri Western by a single point, 31-30. Perhaps just as devastating for Pitt State, quarterback Chad Dodson was knocked out of the game on the final drive and did not return. McKendree pulled off a huge upset of No. 11 Indianapolis, knocking off the Greyhounds 21-16. McKendree was shut out in the second half and produced just 11 yards of offense in the final two quarters, but held on for the win. The upset marked McKendree's first victory over UIndy and first win over a ranked Division II opponent. No. 4 Ferris State overcame a sluggish first half to win at No. 13 Davenport, 28-10. The Bulldogs outscored the previously unbeaten Panthers 21-0 in the second half.
Championship games set
Four D2 conferences stage championship games, one in super region one and three in super region two. Here are you matchups for next Saturday's championship showdowns
CIAA: Virginia Union v. Fayetteville State (Salem, Va)
PSAC: Slippery Rock at Kutztown
SAC: Lenoir-Rhyne at Tusculum
SIAC: Benedict v. Albany State (Atlanta, Ga)
Now let's look at the results of ranked teams, by super region...
Super Region One Results
| | | | |
| --- | --- | --- | --- |
| Team | Result | Opponent | New Record |
| 1. Slippery Rock | WIN | Edinboro | 10-0 |
| 2. Tiffin | WIN | Ohio Dominican | 10-0 |
| 3. Charleston | WIN | West Liberty | 8-1 |
| 4. East Stroudsburg | LOSS | Shepherd | 8-2 |
| 5. Frostburg State | LOSS | Glenville State | 6-3 |
| 6. California | WIN | Gannon | 7-2 |
| 7. Kutztown | WIN | West Chester | 8-2 |
| 8. Fairmont State | WIN | WV Wesleyan | 8-2 |
| 9. Shepherd | WIN | East Stroudsburg | 8-2 |
| 10. New Haven | WIN | Pace | 6-2 |
SR1 notes…
Glenville State's win over Frostburg State is likely going to knock the Bobcats out of the playoff picture. The Mountain East still has a good chance to get two teams into the field with Fairmont State winning for the third week in a row.
Ashland outlasted Findlay in four overtime periods. Neither team was in the SR1 top 10 but Findlay entered the day with a path to the G-MAC championship and the playoffs, but needed wins in their final two games. It's unlikely that Ashland could climb into the top seven to make the playoff field, but they could still earn a share of the G-MAC championship.
The Northeast 10's playoff hopes are hanging by a thread and New Haven was pushed to the end by Pace. The Chargers did get the win and likely stay alive for a playoff spot. As the highest ranked Northeast 10 team, they would only have to climb as high as ninth to get in via earned access. As a reminder, earned access is invoked if a conference's highest ranked team is not in the top seven but is in the top nine.
Shepherd's rebound victory over East Stroudsburg was as impressive as their previous week's game was puzzling. The Rams are back in the playoff hunt but not yet safely in the field. How far ESU falls is what will interest me the most on Monday.
A final teaser for SR1...it's not a given that Slippery Rock will be No. 1 this week. There is an argument to be made for moving Tiffin to the top spot. We'll talk about that on Inside D2Football.
Super Region Two Results
| | | | |
| --- | --- | --- | --- |
| Team | Result | Opponent | New Record |
| 1. Benedict | WIN | Allen | 10-0 |
| 2. Delta State | WIN | West Georgia | 7-1 |
| 3. Valdosta State | WIN | West Alabama | 7-1 |
| 4. West Florida | WIN | Mississippi College | 7-2 |
| 5. Lenoir-Rhyne | WIN | Catawba | 9-1 |
| 6. Mars Hill | LOSS | Tusculum | 7-2 |
| 7. Fayetteville State | WIN | Winston-Salem State | 8-2 |
| 8. West Georgia | LOSS | Delta State | 6-3 |
| 9. Fort Valley State | LOSS | Albany State | 6-3 |
| 10. Virginia Union | WIN | Virginia State | 9-1 |
SR2 notes…
Miles dominated Tuskegee, 35-10. Tuskegee would have advanced to the SIAC championship game with a win. Their loss moves Albany State into second place in the SIAC standings and they will face off with Benedict for the championship on Saturday.
Tusculum's win over Mars Hill put them into the SAC championship as winners of the Mountain Division. They will host Lenoir-Rhyne on Saturday. Playoffs would seem unlikely for the Pioneers but with a championship game win over 9-1 LR, who knows what could happen.
Virginia State's regular season ended with the loss at Virginia Union. The Trojans are 8-2 overall and 7-2 against D2 competition. Entering the weekend, they had one of the lowest strength of schedule scores in the nation. A lot can happen next week, but as things stand today, it seems unlikely Virginia State will make the field.
Limestone held on for a 33-28 road win at Barton to keep some hopes alive for the post season. It seems like a longshot, but the Saints may not need that much help to jump into contention.
West Georgia isn't out of it yet, but things fell apart in the second half loss to Delta State. It started to go sideways when starting QB Cameran Brown was knocked out of the game. The Wolves will need him back in the lineup to keep hopes alive with a win over Valdosta State in the finale.
Fayetteville State is looking good for a second consecutive playoff bid, if they win the CIAA championship. But it didn't look good for most of Saturday. The Broncos had secured the divisional title a week ago, but needed overtime to put away Winston-Salem State. A loss to the Rams would have left them vulverable in the playoff rankings even with a win next week.
Super Region Three Results
| | | | |
| --- | --- | --- | --- |
| Team | Result | Opponent | New Record |
| 1. Pittsburg State | LOSS | Missouri Western | 9-1 |
| 2. Harding | WIN | East Central | 10-0 |
| 3. Grand Valley | WIN | Wayne State | 8-1 |
| 4. Central Missouri | WIN | Fort Hays | 9-1 |
| 5. Indianapolis | LOSS | McKendree | 8-1 |
| 6. Davenport | LOSS | Ferris State | 8-1 |
| 7. Ouachita Baptist | WIN | Oklahoma Baptist | 9-1 |
| 8. Ferris State | WIN | Davenport | 7-1 |
| 9. Missouri Western | WIN | Pittsburg State | 8-2 |
| 10. Southern Arkansas | WIN | NW Oklahoma State | 8-2 |
SR3 notes…
As mentioned above, three undefeated teams going down will have an impact on this week's rankings. Pitt's loss will be costly, but remember that they do have a crucial head to head win over Central Missouri, so they should fall no further than third.
The interesting puzzle to solve is where Missouri Western goes. They earned the huge win over Pitt, but I can't be certain how far they can climb. Looking at the way this region favored SOS it's not out of the question we could see Missouri Western jump a trio of one-loss teams (Indy, Davenport and Ouachita). Will they? We'll discuss and debate Sunday night on Inside D2Football. One thing to remember is that UIndy is (and will continue to be) the highest ranked GLVC team so they are still a playoff team as long as they remain in the top nine (see above notes about earned access).
Davenport should remain in the Top 10 but they close with Grand Valley so its not looking great for staying in the top seven by the end of next week.
Ferris State's win over Davenport should put them safely into a playoff position and possibly as high as fifth.
Super Region Four Results
| | | | |
| --- | --- | --- | --- |
| Team | Result | Opponent | New Record |
| 1. Colorado Mines | WIN | New Mexico Highlands | 10-0 |
| 2. Western Colorado | WIN | Fort Lewis | 9-1 |
| 3. UT-Permian Basin | WIN | Western New Mexico | 8-1 |
| 4. Central Washington | Idle | Idle | 7-0 |
| 5. Augustana | WIN | Northern State | 9-1 |
| 6. Minnesota State | WIN | Winona State | 9-1 |
| 7. Bemidji State | WIN | MSU Moorhead | 8-1 |
| 8. Wayne State | WIN | Sioux Falls | 7-3 |
| 9. Angelo State | WIN | Midwestern State | 6-3 |
| 10. Texas A&M-Kingsville | WIN | Western Oregon | 6-3 |
SR4 Notes…
I'm very sorry to short-change the LSC, NSIC and RMAC followers, but there is very little to say about SR4. Every ranked team won in week ten, except Central Washington, who was idle. There could be some minor shifting but I think its more likely that the committee will look at the results and say we don't have to do anything, so let's not. I don't expect any changes to the top 10 this week and at this point, I think the top seven you see will be the SR4 playoff field, just in a different order.
Other news and notes…
Morehouse beat next door neighbor Clark-Atlanta for their first win of the season and first with head coach Gerard Wilcher.
Lock Haven beat Shippensburg to move to 5-5. The Bald Eagles have a shot to complete a winning season next weekend with a home game against Edinboro. As someone who has been around the PSAC for over 20 years, I cannot even put into words how much of an accomplishment this would be for the Bald Eagles.
Those are your top stories from week nine. Remember to watch Inside D2Football for the weekend recap on Sunday night at 8pm, eastern. We'll project the playoff picture for all four super regions.
Questions, suggestions, comments, complaints? Email me at [email protected] and follow me on Twitter @D2Chuck