Around the Nation - Week Eight Preview
October 20th, 2022 7:00am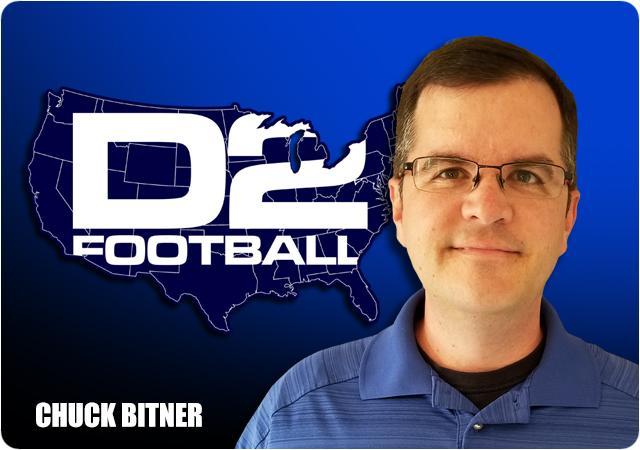 Week eight has a tough act to follow. Last Saturday delivered all the action and drama we could have asked for, headlined by the rare regular season meeting of #1 versus #2. If you missed anything from last week, be sure to catch up with the Week Seven National Roundup and watch the latest episode of Inside D2 Football, featuring our reactions to Grand Valley State's win at previously ranked #1 Ferris State, and an interview with Lakers QB Cade Peterson.
Before we dive into this week's top games, allow me to take a minute to start setting the stage for the upcoming Division II playoffs. We're still a month away from the post-season but you will soon begin reading and hearing a lot of discussion on the topic of regional rankings. If you are new D2, the playoff selection process can be confusing. The Division II Football Championship is a bit unique and some assumptions you may have based on things you see in other NCAA tournaments won't apply. Don't worry, we're here to help.
The first release of the regional rankings that will eventually determine the playoff field will come out on Monday. If you have never been through a playoff season in Division II or if you need a refresher course, we have you covered. First, start with the basics. For this, I recommend this column that I have written in past years and have updated for 2022. This will give you most if what you need, from the simple things like how many teams make the playoffs to the minutiae of calculating strength of schedule. If you comprehend by listening instead of reading, check out the first few minutes of this segment from Inside D2 Football from last fall.
Regional rankings will be a topic of conversation from now until the end of the regular season, so study up and be ready to discuss, debate and argue.
Now, onto week eight. All games listed are on Saturday with start times in eastern time.
Tiffin (4-2) at #10 Ashland (6-0) 1:00
We talked a lot about "game of the year" contests in a few conferences last week. This week, the Great Midwest has what should be its own game of the year event. Ashland and Tiffin are both 4-0 in league play, a full two games ahead of the field. Not only are they tops in the standings, but also first and second in scoring offense and defense and total offense and defense. Ashland narrowly escaped with their perfect record intact in a close battle with Ohio Dominican last week. The Eagles played the first half without starting QB Austin Brenner, for reasons unexplained. His absence was noticeable. The Eagles were shutout in the opening 30 minutes and Brenner took a couple of drives to get warmed up after starting the second half. They did get the win but the 14-7 final marked the first time this year Ashland scored fewer than 28 points. The positive from the game was the performance of the defense, which has been among the nations' elite units. Ashland has surrendered 14 or fewer points in five of six games and the season worst was 17 in a runaway win over Northwood. This week's opponent, Tiffin, will have the most offensive muscle Ashland has seen since the opener against Notre Dame. Darius Pinnix leads the GMAC in rushing and QB Christian Carter has proven to be a dual threat with 228 pass yards and 44 rush yards per game. Interestingly, he has more rushing TDs (8) than passing TDs (6). This should be a close game but I do believe Ashland has the defense to win this no matter how it plays out. I'll take the Eagles by less than a touchdown.
Minnesota State (5-2) at #14 Augustana (6-1) 2:00
There have been a lot of ups and downs for Minnesota State this year. They may have peaked early by opening the season with back-to-back wins over Bemidji State and Minnesota Duluth. Since, they've had some underwhelming games with inferior competition and a loss to Wayne State that was not as close as the final. They're also playing without their top offensive weapon, WR Jalen Sample. All that said, the Mavericks are still very much in contention and they have some big opportunities in the next two weeks. The trip to Augustana this weekend will either keep them alive, or eliminate them from the south division race and the post season. After dealing with some early season injuries, it felt like Augie's season was starting to bog down. Around the loss to Sioux Falls were a couple of tight games that were closer than expected. But last week's win over Wayne State really showed some resolve. After giving up a 15 point lead, the Vikings responded and won it with an 82 yard TD drive in the two minute offense. I think that was the kind of moment they needed to get themselves back to believing they're one of the top teams in the NSIC and the country for that matter. I think they can get a lot of mileage out of that, starting with a win this weekend at home.
Minnesota Duluth (5-2) at Bemidji State (5-2) 2:00
Since the end of week two, I've been talking about my belief in Colorado Mines (who started 0-2) winning their conference and making the playoffs. Another team that started 0-2 that may pull of something similar is Bemidji State. With the NSIC's silo scheduling it may not be possible to win the league with two conference losses (though not impossible) but playoffs are definitely on the table. The defending champs of the NSIC north division have won five in row. It does have to be mentioned that their last four opponents are a combined 2-26. But the offense is humming, as expected with Harlon Hill candidate QB Brandon Alt pulling the trigger, and the defense has been playing very well lately. The Beavers are allowing only 270 total yards per game. That puts them in the top 20 nationally. Bad news for the Beavers though. Ahead of them on that total defense national ranking is Minnesota Duluth. The Bulldogs give up only 75 yards per game on the ground and under 200 passing. The pass defense is the best in the league and they're also tied for the lead in interceptions with 8. I think they'll get two from Alt who leads the nation in INTs thrown with 11 and that will be the difference. This is likely a playoff elimination game.
#21 Newberry (6-1) at #19 Lenoir-Rhyne (6-1) 2:00
When the South Atlantic Conference expanded and created divisions beginning this fall, it seemed predictable the Piedmont division would be the more hotly contested one for the immediate future. Lenoir-Rhyne, Newberry and Wingate were slotted into the Piedmont and have all won conference championships in the last five years. Coincidentally, all three teams currently stand at 6-1 overall and 2-0 in the division. LR is the only team undefeated in SAC play including crossovers with the Mountain division. Through seven weeks we have not yet had any contests among these three teams but that changes on Saturday with Newberry heading to Lenoir-Rhyne.
I said on Inside D2 Football this past Sunday that Lenoir-Rhyne is a team that has been out of sight, out of mind since being humbled by Ferris State in week two. But they have steadily improved and have won five in a row. I'd still like to see a little more consistency from the run game, but they are tied for the lead league in rushing touchdowns. I do think the rush will determine the outcome of this game, but actually feel there is more pressure on Newberry. The Wolves have to run the ball to win, especially with starting QB Dre Harris still nursing an injury. Wolves RB Mario Anderson, who is second in the SAC in rushing yards must have a big day. He was the difference maker last week in a road game at Catawba, rushing for 246 yards and four TD. But I think the LR defense can slow him down enough to make Newberry throw the ball more than they want to. The Bears are coming off a shutout of Barton and held a solid rushing attack to just 85 yards. The Bears are tough to beat at home and I know last year's loss at Newberry sill doesn't sit well. I'll take Lenoir-Rhyne at home by a touchdown.
#15 Slippery Rock (6-1) at California (4-3) 3:30
Slippery Rock is the obvious pick here. They have outclassed the competition all year except for the one-score loss at IUP that easily could have gone the other way. But their season is still on course. Not so for Cal. The Vulcans had aspirations of winning a conference championship and making a playoff run but both seem very distant while sitting at 4-3. Last week's 21-14 victory over winless Seton Hill wasn't a good performance. The Vulcans posted under 300 yards of total offense for the first time this year and showed some signs of being a little deflated. And who can blame them. The Vulcans have three close losses to teams that have a combined record of 18-2. They're a couple of breaks away from being a Top 10 team. While this season hasn't gone the way they expected, all is not lost. Championships and playoffs are unlikely but crazier things have happened. A win this week over Slippery Rock would turn the season in a new direction and at least give them hope for. Slippery Rock has had Cal's number in this series though. Rock has won eight of the last 10 meetings and the last four in a row. Despite that, I do believe the teams are pretty evenly matched and I think Cal has a rally in them. It will be homecoming at Cal U and perhaps the Vulcans' last chance to make some noise. The passing / receiving combination of Noah Mitchell and JaQue Jackson has been one of the best in the region. If they can hit their stride early, I think they have an upset in them.
Mississippi College (4-3) at #8 West Florida (5-1) 5:00
I don't think very many people would have predicted that West Florida and Mississippi College would be tied for second place in the GSC standings after week seven of the season. Sure, we expect the Argos to be near the top of the standings but Mississippi College was won more than two conference games only once since joining the GSC in 2014. The best season the Choctaws have enjoyed during that time was 2019 when they finished 4-4 in GSC play and 5-5 overall. After back-to-back upsets of West Georgia and Valdosta State, they have their sights set on a winning season. West Florida has the best rush defense in the GSC but Miss College is different from anyone else they've played. But I do think West Florida has the right matchups. The Argos have been vulnerable against passing offenses but should have the speed and athleticism for the Choctaws option offense. The Argos also have the league's top scoring offense and they can strike quickly. Even if MC is able to put up points, they'll have to be methodical about it. West Florida has the weapons to get those points back quickly. I like West Florida in this meeting.
Game of the Week
#18 Texas A&M-Kingsville (7-0) at #2 Angelo State (7-0) 7:00
On paper, this matchup is the top two scoring offenses and defenses in the LSC and they're close enough that they're basically tied. That is a theme for many statistical categories when you compare these teams. One thing that jumps out to me is how infrequently Angelo State allows opponents to get into scoring position. The Rams have allowed opponents into the red zone only nine times in seven games and have given up just five red zone touchdowns. The Rams have also allowed the fewest first downs in the LSC, so when you combine those facts, it's hard to sustain scoring drives against this Angelo defense.
A couple of things I am looking for this game…two tough, physical ball carriers in Angelo State's Nate Omayebu and Kingsville's Christian Anderson. They are second and third in the LSC in rushing. If one of them hits 100 yards, that's probably your winner. The quarterbacks, Zach Bronkhorst from Angelo and Jacob Cavazos from TAMUK, are the two most efficient in the league. Bronkhorst leads the LSC in passing yards. Defensively, Angelo State's Andrew Pitts has five INTs and two defensive touchdowns. He is someone Cavazos needs to account for in the passing game.
I hope I am wrong, but I don't see this as the competitive matchup of 7-0 teams that it looks like on the surface. I don't want to take anything away from TAMUK. After all, they're off to the best start they've had since 2009. But realistically, they have two games against opponents that are not countable for playoff consideration and have struggled against some teams they should have overpowered. They did get a good win at West Texas A&M, but that this the only opponent they've faced so far that has a winning record to date and they're season has been trailing off badly. But whatever doubts we may have will be resolved in the next month. The Javs have a great opportunity this week and if they can upset the #2 team, they will shoot up the rankings. But I don't think the Rams are going to be upset.
Off the Grid Game of the Week
Mercyhurst (2-5) at Gannon (5-2) 12:00
Each week I try to shine a spotlight on a game that won't have national rankings or playoff positions at stake but have some elements of intrigue worth knowing about. This week, we're heading to Erie, PA for the Niagara Cup game between the Gannon Golden Knights and the Mercyhurst Lakers. These two schools are quite literally cross-town rivals. Gannon sits in downtown Erie while Mercyhurst is about three miles further inland. Recent history has favored the Lakers, with a record of 8-2 over the past decade. But fortunes have favored Gannon in 2022. The Golden Knights are 5-2 and 2-1 in the PSAC west division. Mercyhurst has lost five in a row after starting the season with a pair of wins. The Lakers have had Gannon's number and there is a part of me that thinks they have something special in them for this year's meeting. But The Knights are the better team at the moment and there should be a sense of urgency to win. Melvin Blanks and Antonio Wright have been splitting time as the featured running back and both are over 500 yards for the season. Despite the records, a Mercyhurst win would not be surprising. But Gannon is the better team.
Bonus off the grid games
Minot State (0-7) at Upper Iowa (0-7)
West Virginia Wesleyan (0-7) at Alderson-Broaddus (0-7)
I'm going to give you two more games that are way off the reservation. We have two matchups of winless teams that are a combined 0-28. Clearly, this is the best chance all four will have at a win. The interesting thing about these two games when you look at them together, is the distance the road team will travel. Minot State at Upper Iowa is a conference game but they are further apart than any other two members of the NSIC. This is a 12-hour, 700 mile journey by bus from Minot, North Dakota to Fayette, Iowa. Conversely, West Virginia Wesleyan and Alderson-Broaddus are a mere 22 miles apart. Wesleyan and AB could play a three-game series, alternating venues, and complete it in the same amount of time Minot State will be on the busses for their trip. I don't have a great read on Minot and Upper Iowa, but after making that trip, I hope Minot gets the win. I think Wesleyan will be a little better than Alderson-Broaddus.
Questions, suggestions, comments, complaints? Email me at [email protected] and follow me on Twitter @D2Chuck. Don't forget to catch Inside D2 Football on Sunday nights at 8pm.