D2Football Viewer's Guide For Week Seven
October 15th, 2021 12:00pm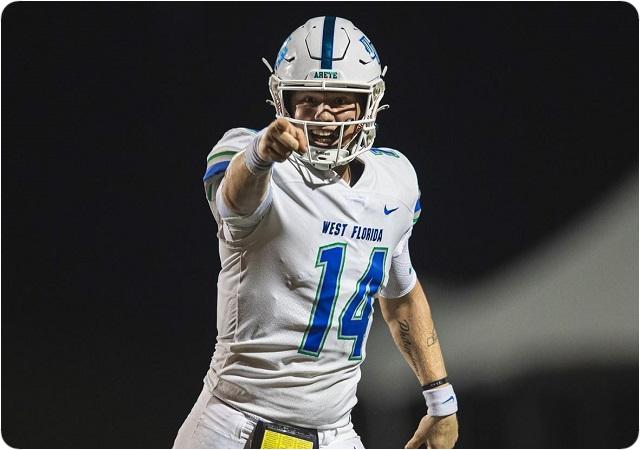 By Chuck Bitner, D2Football.com
Photo credit: Morgan Givens, University of West Florida Athletics
I've been immersed in the world of Division II football for more than 20 years and have spent half of that time working with the D2Football.com team in various capacities. In all that time, there haven't been many regular season weekends that had as many marquee matchups as we have this Saturday. Consider this: the first, second and third ranked teams in the D2Football.com Top 25 are playing ranked opponents. That's just the start of what should be a special weekend, and a special weekend calls for some additional coverage. Here is your viewer's guide to the top matchups, along with some of my thoughts on why these games are so important.
| | | |
| --- | --- | --- |
| #1 West Florida (5-0) v. #15 West Georgia (5-1) | | |
| #2 Ferris State (5-0) at #6 Grand Valley (5-0) | | |
| #3 Valdosta State (5-0) at #10 West Alabama (5-0) | | |
| #7 Slippery Rock (6-0) v. IUP (4-1) | | |
| #9 Harding (5-1) at #18 Henderson State (6-0) | | |
| #19 Augustana (5-1) at #23 Wayne State (5-1) | | |
| #25 Kutztown (5-1) v. Shippensburg (5-1) | | |
| Lindenwood (4-2) at Indianapolis (4-2) | | |
| Findlay (4-2) at Ohio Dominican (5-1) | | |
I can't say it is unheard of to have this many big time matchups in a single weekend, but it doesn't happen often. By the way, all of these are conference games, so not only are bragging rights and national rankings at stake, these games will go a long way towards determining conference championships, especially in the Gulf South Conference.
While its easy to assume the GSC has center stage with four teams in the Top 15 and two of the three top games, I believe top billing goes to the Anchor Bone classic between Grand Valley State and Ferris State. There is a month's worth of football to be played after this weekend, but it is hard to anticipate any other GLIAC team posing a threat to Grand Valley or Ferris. Saginaw Valley and Michigan Tech would be the best challengers but they are already a combined 0-3 against the Lakers and Bulldogs. Tech (3-2) plays Ferris next Saturday. I don't like looking too far ahead but it's not out of line to think this weekend's game will determine the GLIAC championship. Grand Valley has announced that Lubbers Stadium is sold out for the event so it will be a loud, raucous, hostile, standing-room-only crowd for this primetime event that most certainly would have been worthy of a visit from ESPN's College GameDay. If you haven't yet, be sure to read Jake Riepma's GLIAC column for his take on the D2 game of the year and listen to his GLlAC Football Weekly podcast for comments from Ferris State coach Tony Annese.
In the GSC, West Florida and Valdosta State have played like top 5 teams all year, but both will face their toughest tests of the season so far. West Alabama hosts VSU as an undefeated team looking to steal the headlines and assert themselves as the top contender. West Georgia has a conference loss to UWA and must pull off the upset of West Florida to stay in the title hunt. The Argos will be playing their first game in Blue Wahoos Stadium since November 16, 2019. Check out Justin Polizzi's GSC column for his perspective on the games.
Elsewhere in matchups of top 25 teams #9 Harding visits #18 Henderson State in a Great American Conference showdown. Harding has the higher national ranking, but Henderson State is the only undefeated team left in the GAC. A Henderson State win would give the Reddies a clear path the GAC championship and likely drop Harding out of contention. A win for the Bison could force a three or four-way tie atop the standings, depending on the results of other games. Troy Mitchell has a deeper look at this match up in the GAC column.
In the NSIC, newly ranked #23 Wayne State will host #19 Augustana. Both teams are 5-1 overall and in conference play and currently in a three-way tie for first place in the standings with Minnesota-Duluth. Wayne State is on a remarkable run, having defeated Minnesota-Duluth, Winona State and Minnesota State in consecutive weeks. In September, I asked NSIC columnist Matt Witwicki where he thought Augustana would be in late October when they would face Mankato, Winona and Duluth in consecutive weekends. Little did we know at the time that the gauntlet would start a week earlier with a visit to Wayne, Nebraska. Read Witt's NSIC column for his thoughts on the game.
In other games involving top 25 teams, the PSAC has a pair of games to keep an eye on. #7 Slippery Rock (6-0) will host rival IUP (4-1) in a critical battle for first place in the PSAC West division. This is the best rivalry in the PSAC and one of the best in the entire region. Expect a packed house at Mihalik-Thompson Stadium in what could possibly be the regular season game of the year in the PSAC. In the East division, Shippensburg (5-1) will travel to #25 Kutztown (5-1). Kutztown is the only team unbeaten in divisional play. If the Golden Bears can win, the only real challenge left for them is a week 10 visit to West Chester. A Shippensburg win could force a three-way tie with Kutztwon and Shepherd in the division.
On the fringe of the Top 25, Lindenwood (4-2) travels to Indianapolis (4-2) for what will be a battle for first place in the GLVC. Both teams are 2-0 in conference play, a game ahead of Truman State. Lindenwood has overcome an 0-2 start to win four in a row. Their overall record is 4-2 but they are 4-1 against D2 opponents. UIndy is 4-2 overall but just 3-2 against Division II opponents, making this a must-win to stay in the post season race. Read more about the GLVC race in Bryon Ramos' GLVC column.
The top two teams in the Great Midwest Athletic Conference face off in Columbus, Ohio with Findlay (4-2) visiting Ohio Dominican (5-1). ODU has won five straight games since the 35-30 season opening loss to a ranked Shepherd team. A win this weekend over Findlay could propel Ohio Dominican into the national rankings.
In the Lone Star conference, UT Permian Basin (4-1) and Angelo State (4-2) meet in a critical conference game. UTPB is 2-0 in the conference but only 3-0 overall against Division II opponents. They have five straight conference games between now and the end of the season to challenge for a title.
A few other quick hits…
West Virginia State will play the first on-campus night game in program history Saturday night. Lakin-Ray Field at Dickerson Stadium received some long overdue upgrades earlier this fall with the installation of artificial turf and lights. Both will debut this Saturday night as the Yellow Jackets (3-3) play UNC Pembroke on homecoming weekend. New seating is slated to come next year, which will round out a complete overhaul of the University's football facilities, which began in 2014 with construction of the Monroe Athletic Complex.
#13 Bowie State is coming off a huge road win over previously unbeaten Chowan. The Bulldogs still have to get through Virginia State and Virginia Union to win the CIAA north division. VSU is up first as they visit Bowie on Saturday.
The list of winless teams was reduced by one as Southern Nazarene kicked off the weekend with a Thursday night win at home over Southwestern Oklahoma State.
There a handful of other games deserving of discussion as well. Be sure to check out all the columns from our staff writers to get the complete perspective from around the country. Most importantly, enjoy the action this weekend. It is going to be a very special Saturday of Division II football. Be sure to follow the scores page for updates and don't forget to check out the D2 Nation Sunday night show on our YouTube Channel. The show goes live at 8 eastern / 7 central.
Questions, suggestions, comments or complaints? Email me at [email protected] and follow me on Twitter @D2Chuck.