D2 Playoffs: Round One Viewer's Guide
November 17th, 2023 10:00am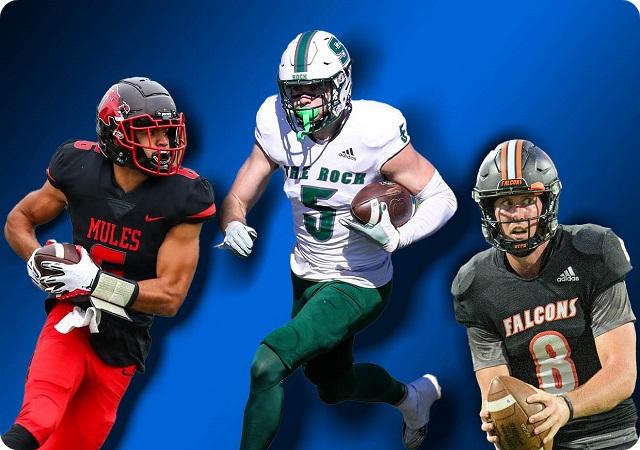 The Division II playoffs kick off this Saturday. The first round will feature three games per super region, for a total of 12 contests. The number one seeds will be idle and face the winners of the games hosted by the fourth-seeded team in each region. If you're not up to speed in the playoff field, here is the 2023 playoff bracket.
By Chuck Bitner, national columnist
In case you missed it, our team has all the regional action covered in a new series of podcasts that we hope to continue throughout the tournament. With the effort we've been putting into the regional shows, I am going to suspend the national column for the next couple of weeks, but will continue the tradition of assembling a viewer's guide so you can find and track all the games this weekend. I also have links to aforementioned preview shows below.
How and where to watch
Some of you probably know this already but if you don't, here is the news…If you want to watch Division II playoff games on the web or streaming apps this year, it will cost you. We discussed this on Inside D2Football but we didn't want to dominate the conversation with it and take away from the real discussion, which is the teams and games. But many of you do enjoy watching games outside your region or conference and you need to know that it won't be free this year, until the semifinals.
Several conferences have had success with subscription-based services and that led Division II to the conclusion that there is a market willing to pay to watch the games. For the 2023 playoffs, you can purchase a subscription that will allow you to watch all the games, live or on-demand, from the first round through quarterfinals for $19.95. If you plan to watch one game only, the per-game cost is $9.95. Links to individual games are below. If you stream events through devices such as Roku, Apple TV, Fire or Google TV, search for the new NCAA Championships Pass App on your device. If you want to purchase the package to watch all the games and can't find the option, there is an easy way to get to it. Go to any of the individual game links below. Click the Purchase Access option. That will open a new screen for you to choose between purchasing that game only, or the Access Pass for $19.95.
I have many thoughts on this topic and how Division II should use this as an opportunity to improve the visibility of the tournament. But I will save those for an off-season column. For now, the focus belongs on the teams competing for a championship. Before we move on to the schedule I just want to remind everyone that your team, your conference and D2Football.com had no say in this. If you direct your displeasure at any of the above, it is misplaced.
Here is the schedule for Saturday along with links to resources to get you caught up on what you need to know.
Super Region One
(12:00) Virginia Union (10-1) at Kutztown (9-2)
(1:00) East Stroudsburg (9-2) at Slippery Rock (10-1)
(1:00) New Haven (8-2) at Charleston (9-1)
Super Region Two
(1:00) Shepherd (9-2) at Lenoir-Rhyne (10-1)
(1:00) Limestone (8-3) at Valdosta State (10-1)
(2:00) West Florida (8-3) at Delta State (9-1)
Super Region Three
(1:00) Ferris State (8-2) at Grand Valley State (9-1)
(2:00) Henderson State (9-2) at Central Missouri (10-1)
(2:00) Indianapolis (9-1) at Pittsburg State (10-1)
Super Region Four
(1:00) Minnesota State (9-2) at Augustana (10-1)
(2:00) Central Washington (7-3) at Western Colorado (10-1)
(2:00) Bemidji State (8-2) at UT-Permian Basin (10-1)
There's your schedule for round one. Check out the links to the podcasts and columns and Remember to watch Inside D2Football for the weekend recap Sunday night at 8pm, eastern.
Questions, suggestions, comments, complaints? Email me at [email protected] and follow me on Twitter @D2Chuck